Could This Be the Future of Apple's iOS?
Could this be the iOS 7 reboot that Apple (NASDAQ:AAPL) users have been waiting for? Simply Zesty, a full service digital agency based in the UK, has created an amazing concept video that outlines the expected design changes that users are anticipating for Apple's new mobile operating system. Simply Zesty describes its video as "our concept designs for iOS 7, gathered from the rumours, speculation and features we think Apple should include on the new OS."
The video gives viewers an idea of where Apple software design may be headed. It covers potential design changes to the calendar, music, and camera apps. One of the most refreshing potential changes that this video illustrates is a customizable splash screen.
The video seems to be mostly based on the rumors that state that the redesigned iOS 7 will feature a more minimalist appearance and eliminate the skeuomorphic icons that have long characterized Apple's iOS. Jonathan Ive, who previously designed Apple's hardware, is now in charge of Apple's human interface design. Ive is supposedly leading a redesign effort that will strip the "glitz" off the current software design and replace it with a user interface that more closely meshes with Apple's minimalist hardware design ethos.
Apple will officially unveil the new iOS 7 at the Worldwide Developers Conference, scheduled for June 10-14. Apple's iOS has not had a major makeover since the iPhone's debut in 2007, and this could be a make-or-break scenario for the next generation of Apple's mobile operating system.
Apple shares closed down 0.83 percent at $452.97 on Friday after shedding $3.80 from its price at the opening bell. Here's how Apple has traded over the past week.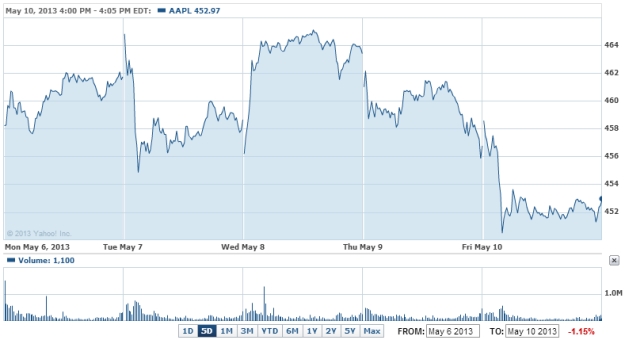 Don't Miss: Apple iTunes to Microsoft: Thanks, But No Thanks.