David Einhorn: These 4 Tech Stocks Are Not in a Bubble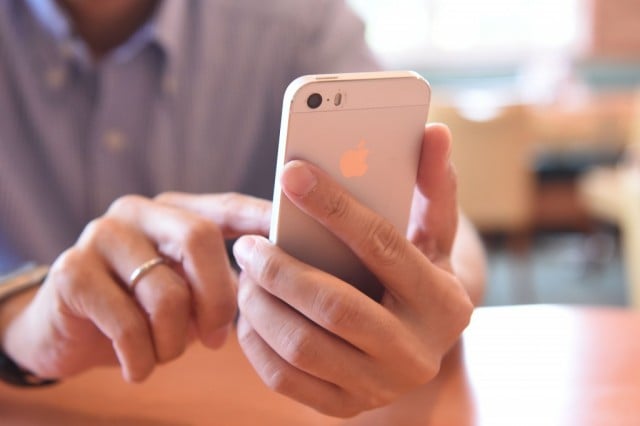 While bubble talk is everywhere in the market these days, that doesn't necessarily mean everything is a bubble. David Einhorn, president and founder of Greenlight Capital, raised concerns earlier this year about an echo bubble taking place in technology. Some people believed he claimed the entire sector was looking dangerous, but some of his most popular holdings are tech names.
Einhorn recently issued his quarterly letter to investors and clarified his views. "In our last quarterly letter, we wrote about the bubble in momentum stocks, most of which are in the technology sector. The media latched onto a single sentence embedded in a lengthy discussion about 'cool kid' stocks and suggested that we were declaring all technology stocks to be in a bubble," writes Einhorn. "Nothing could be further from the truth. Many of our largest long positions are in technology, and we are not holding them with a cynical view that we want to play a bubble."
In order to play the bubble in certain momentum stocks, Einhorn created a basket of companies to short. At this year's Sohn Investment Conference, he presented Athenahealth (NASDAQ:ATHN) as one company to bet against. However, Einhorn is long four tech companies that have "strong prospects" and are "undervalued."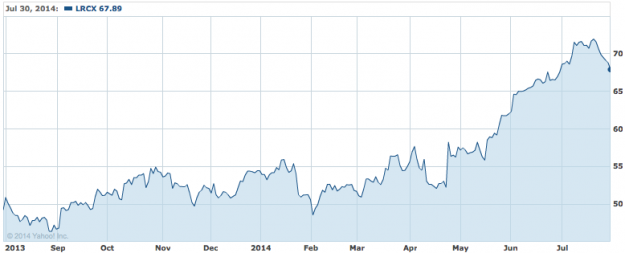 1. Lam Research (NASDAQ:LRCX)
Lam Research is a new "medium-sized" investment for Greenlight Capital. Founded in 1980, the company is a leading supplier of wafer fabrication equipment and services to the global semiconductor industry. Lam Research develops innovative solutions that help customers build smaller, faster, more powerful, and more power-efficient electronic devices. It has more than 6,000 employees across sixteen countries.
"As transistors get smaller and smaller, the conversion of semiconductor designs into working chips becomes more difficult. The solution, known as 'multi-patterning,' involves running each layer of the chip through the manufacturing line multiple times, etching away the excess material until the chip works properly. This forces chip manufacturers to buy more of LRCX's etchers and deposition tools for each manufacturing line," explains Einhorn. "We purchased the position at an average price of $54.07 representing 7x our calendar 2015 earnings estimate, net of cash on the balance sheet."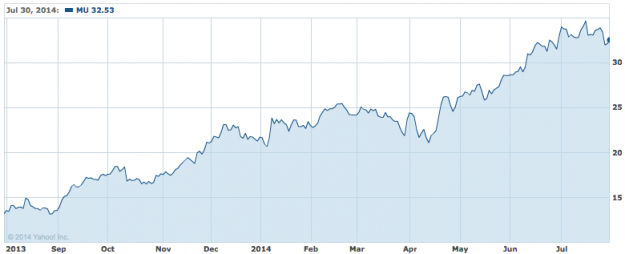 2. Micron Technology (NASDAQ:MU)
Micron is a global leader in advanced semiconductor systems, engineering technology that drives innovation. After betting against Micron from January 2001 to February 2005, Einhorn built a large long position in the company during the fourth quarter of 2013 at an average price of $16.49. It was the first time Greenlight Capital ever took a long position in a company in which it once had a material short position.
"The spike in DRAM prices from last year turned out not to be a blip and earnings continued to exceed expectations," explains Einhorn. "We believe consensus earnings estimates remain too low, positioning the company for further earnings surprises and multiple expansion."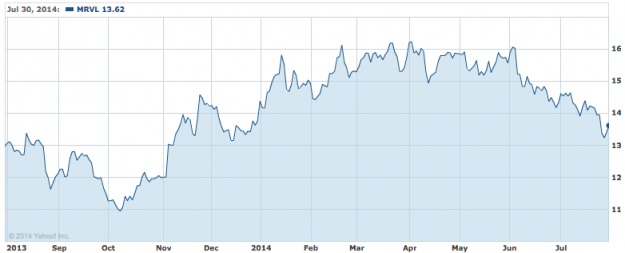 3. Marvell Technology (NASDAQ:MRVL)
Marvell Technology is a producer of semiconductor products, and continues to gain share in a variety of popular wireless devices. Founded in 1995, the company has operations worldwide and more than 7,000 employees. It is a leading fabless semiconductor company that ships over 1 billion chips each year.
Einhorn was quiet about his Marvell Technology position in the latest quarterly letter, but noted that it was Greenlight's third-largest long position at the end of the second quarter.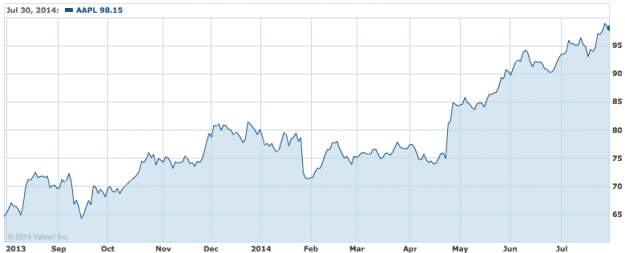 4. Apple (NASDAQ:AAPL)
The world's largest tech company continues to be a favorite at Greenlight Capital. In fact, Apple is the hedge fund's largest long position at quarter end. Shares have regained momentum this year and the company looks set to release new products in the fall.
"Investors' 2013 fears that AAPL had saturated the market and its best days were behind it proved unfounded as 130 million people became first-time iOS customers in the last year," explains Einhorn. "Last quarter, AAPL's EPS grew 15 percent and the forecast is for more of the same. Importantly, AAPL also increased its share repurchase authorization by $30 billion to $90 billion. Concurrently, AAPL also announced a seven for one stock split. AAPL remains inexpensive at about 11x earnings net of cash."
More from Personal Finance Cheat Sheet:
Follow Eric on Twitter @Mr_Eric_WSCS
Want more great content like this? Sign up here to receive the best of Cheat Sheet delivered daily. No spam; just tailored content straight to your inbox.