Dell's New Angle: Every New Mobile Company Needs Enterprise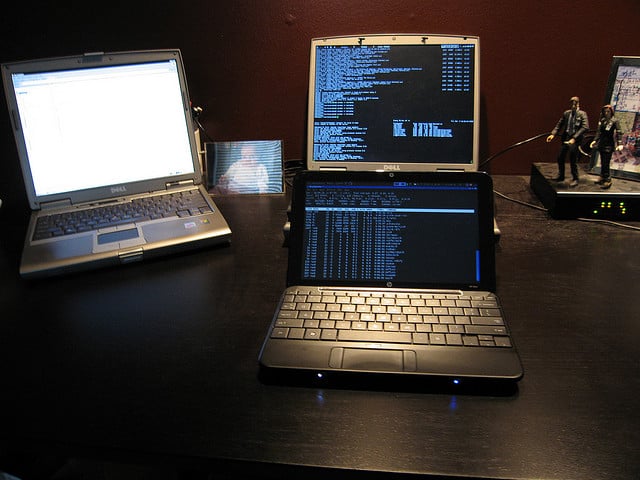 Dell (NASDAQ:DELL) made a brief foray into the smartphone business –  releasing the Venue Pro, a handset powered by Microsoft's (NASDAQ:MSFT) Windows mobile operating platform, in December 2010 and the Venue, powered by Google's (NASDAQ:GOOG) Android, in 2011. But those devices were not popular with carriers or customers, and the PC maker announced it would cease manufacturing both devices in March of last year.
At the time, the company said that its decision did not mean that it was exiting the U.S. smartphone market, and company spokeswoman Ellen Murphy told PCMag that Dell would launch more smartphones in the United States by the end of 2012. Of course, those new smartphones never came, and Dell spent much of the past eight months caught up in an identity crisis as company founder and Chief Executive Officer Michael Dell battled activist investor Carl Icahn for control over the company's future.
The main point of contention between Mr. Dell and Icahn was whether Dell would remain publicly traded or go private in leveraged buyout deal. Underlying the go-private debate were two equally important questions: the PC maker's value and its future business. Mr. Dell proposed in early February to take the PC-maker completely private so that the transformation of its core business from personal computers to enterprise services could take place away from the pressure of Wall Street.
In comparison, Icahn argued that the strategy would unfairly eliminate the opportunity for shareholders to profit from any future improvement in Dell's performance. His proposal would have left a portion of the company public and keep Dell largely a PC company.
To the special committee of the company's board of directors that deal "dramatically elevate [the] risk profile and uncertainty for existing Dell shareholders" and to Mr. Dell, it would add substantial debt, decrease financial flexibility, and "hurt the company's ability to weather an economic or business downturn."
The question of smartphones was never an issue. Now that the major question about Dell's future has been solved — shareholders voted Thursday to approve Mr. Dell's $24.9 billion or $13.75-per-share privatization bid — the discussion can be devoted to what will happen once the privatization transaction has been completed. "Once the deal is consummated, they can move on and close some of the large infrastructure deals they've been working on. I do think there's been a bit of a pause," Cross Research analyst Shannon Cross told Reuters.
Currently, Dell's future is intermediately tied to PCs with more than 50 percent of its revenue generated from that sector. To realign itself in the post-iPad world, there were two different paths the company could follow: smartphones or enterprise. As the company CEO made clear in an interview with CNBC on Friday, returning to the smartphone business is not on his agenda.
"We're not getting in the mobile phone business," he said. But that does not mean the soon-to-be-privately-held company is not looking to profit off the mobile market. "Every time a new mobile company gets born, they need servers and infrastructure and storage," Mr. Dell told CNBC. "Companies need to protect and secure their data on these mobile devices."
The very public fight for control of Dell's future that Icahn waged against Mr. Dell brought the personal computer maker's need to transform itself into the glaring spotlight. The company's most-recently reported quarterly results, which included a 72 percent drop in net income — and IDC's expectations for a 10 percent drop in annual PC shipments for 2013 — only added to that spotlight. Even so, the company still plans to invest in both the personal computer and tablet markets, Mr. Dell said in a conference call following the shareholder vote.
Despite his commitment to building Dell into an industry-leading provider of entrprise services, in the mold of IBM (NYSE:IBM), end-user computing, which includes devices like PCs and tablets, will remain an important focus for the company, as Mr. Dell told reporters on the call. He did not elaborate on the subject or take further questions, Reuters reported.
With the vote completed, the company's internal transformation is expected to quicken. "We still have a long way to go and many challenges to meet," the company founder said, according to the publication. "But under a new private company structure, we will have the flexibility to accelerate our strategy and pursue both organic and inorganic investment without the scrutiny, quarterly targets and other limitations of operating as a public company."
In the past quarter, the company's evolving strategy began to show after the shock of the 72 percent slide in quarterly earnings abated. While revenue increased modestly from the previous year, that increase came at a cost.
To grab market share from competitors Lenovo (LNVGY.PK) and Hewlett-Packard (NYSE:HPQ), the company significantly discounted its PCs — a move that boosted sales but cut into margins and earnings.With EBITA of $3.6 billion in the last quarter, Dell can use that cash to invest in the other side its business, the enterprise service side, which like PCs is a low-cost, low-margin business.
What remains to be seen is whether Dell can build its enterprise service business big enough and fast enough to be competitive. Some analysts believe it might be too late to grab market share from HP and IBM. Of course, with the collapsing PC market, Dell had little choice.
Don't Miss: 3 New Technologies Aiming to Redefine Television.