Dell's Privatization Journey: One Delay After Another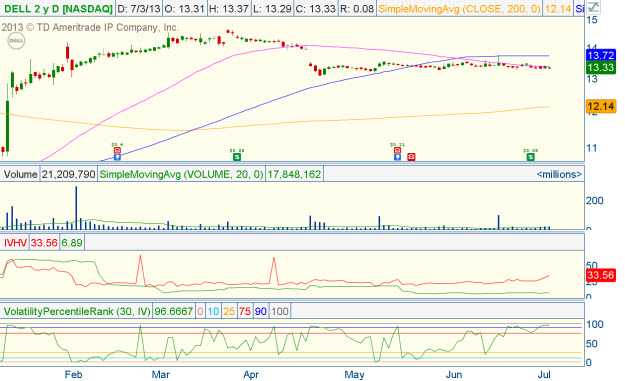 Thanks to the particularly acrimonious nature of the fight over Dell's (NASDAQ:DELL) future that has broken out between Michael Dell and activist investor Carl Icahn, the personal computer company's road to privatization has been filled with one obstacle after another.
Icahn Enterprises (NASDAQ:IEP) launched a lawsuit against the company's board of directors to derail Michael Dell's plan, but his own efforts have been delayed as well. Delaware's Chancery Court was scheduled to hold a conference Monday that would determine whether to grant Icahn's request for an expedited hearing, but that conference was delayed until Friday by Chancellor Leo Strine, a court official told Reuters.
The vote over Michael Dell's go-private offer has been delayed three times thus far as Michael Dell and his financial backer, Silver Lake, have scrambled for more shareholder support.
At the heart of Icahn's suit is the board's decision to amend the voting rule in return for a higher buyout offer. Specifically, he alleged that the board manipulated the shareholder vote on the buyout by pushing it to September 13 and that Dell's postponement of its annual meeting to elect directors is an undue delay under Delaware law. In general, Icahn — who is the second largest Dell shareholder, with an 8.7 percent stake — contends that that Michael Dell's proposal to buy back the company he founded is "an insult to shareholders."
During the conference, the shareholders' lawyers will have to prove that Icahn is at risk of irreparable injury if he is to receive an expedited hearing. In court papers seen by Reuters, Icahn's lawyers said the question before the court is "Whether our law will allow [members of Dell's board of directors] to act as Platonic guardians, repeatedly refusing to take 'no' for an answer on the merger, stacking the cards in its favor and deliberately postponing the annual meeting."
Icahn may have a tough case to make. Boston College Law School professor Brian Quinn told Reuters that it is not clear what harm the shareholder could potentially suffer, since there are no competing offers for all of the stock. But Ichan has argued that the offer made by Michael Dell severely undervalues the company, and he wants the court to prevent Dell from changing the voting requirements that will prevent non-votes from be tallied as votes against the deal, an amendment that favors the CEO's offer.
When the board agreed to change the voting requirements in return for a sweetened bid on August 2, Icahn issued this statement: "In every war there are many battles. We are pleased today to have won yet another battle, but the war regarding Dell is far from over. Through its actions today, the Special Committee has finally acknowledged publicly what we have been saying all along – that Michael Dell's offer substantially undervalues the company." Together, Icahn and shareholder Southeastern Asset Management have their own bid for Dell.
Icahn also wants the company to hold a special vote on the proposal at the same time it holds its annual shareholder meeting and nominate new directors to replace several current board members he says are not acting in shareholders' best interest by accepting Michael Dell's bid.
Naturally, Michael Dell sees Icahn's opposition differently. While the closeness of the vote has disappointed him to some degree, the drama that has unfolded has not exactly been surprising. Noting in an interview with Bloomberg that he respected the opinion of shareholders like Southeastern, who would be "willing to accept the significant risks and challenges of my effort to transform the company," the founder and CEO believes that Icahn saw an opportunity in the "voting standard in our contract to buy into the company and organize a blocking position with a minority of the company's shares." Icahn was not a shareholder at the time the deal was announced.
Follow Meghan on Twitter @MFoley_WSCS
Don't Miss: Norway Says No to Apple Maps.