Despite Bonds, Apple Was 'Biggest Loser' For Greenlight Q1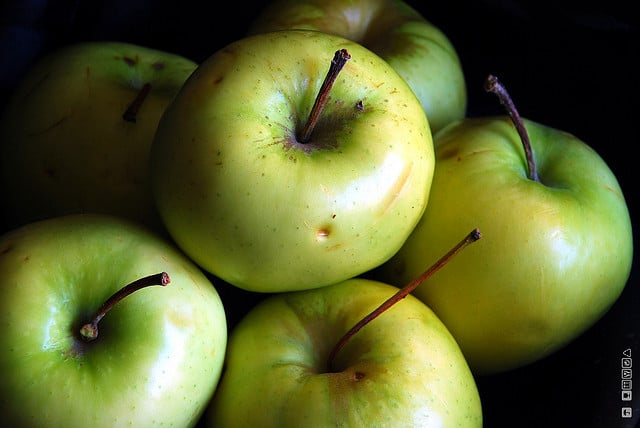 Although he praised Apple's (NASDAQ:AAPL) many positive attributes, Greenlight Capital's (NASDAQ:GLRE) David Einhorn still found the Cupertino-based tech company was one of the fund's "biggest losers." Einhorn pointed out in Greenlight's first quarter 2013 letter to investors via ValueWalk that Apple shares decreased from $532 to $443 during the quarter. His current concern with Apple is the company's "disappointing earnings and a diminished forecast." Einhorn notes that Apple's expected 2014 earnings per share was $64 in July 2012. Now its 2014 EPS is at $44.
Despite the declining earnings forecast, Einhorn is still bullish on Apple and he believes that the tech company has a "terrific operating platform, engendering a loyal, sticky and growing customer base."  However, the earnings that these positives should have produced were tempered last quarter by "slower sales growth, lower margins, and increased competition."
The fund manager also points to "delays in new carrier wins, next generation product introductions, and new product category launches" as negatives that have led to recent Apple share declines. However, Einhorn also believes these short-term problems will be overcome in the long run.
Einhorn is already familiar to many Apple watchers as the activist investor who sued the company earlier this year in an attempt to push Apple to return more capital to shareholders. After winning an injunction against Apple that prevented the company from holding a vote on a proposal that would have prevented preferred stock issuance, the fund manager presented his "iPrefs" idea to Apple investors and management.
Interestingly, Einhorn admits in his letter to investors that he didn't believe Apple would "issue debt under any circumstances, and especially not to return cash to shareholders." Einhorn praised Apple's $100 billion capital return plan and called the bond offering "as good as anything shareholders could have hoped for." He notes that this capital return plan is a "dramatic shift from where [Apple] stood just a few months ago." This could be Einhorn's elliptical way of taking credit for Apple's about-face on this issue.
Due to Apple's long-term prospects and the company's recent propensity for returning cash to investors, Einhorn remains bullish on Apple and has increased Greenlight's stake in the company.
Here's how Apple has traded over the last six months.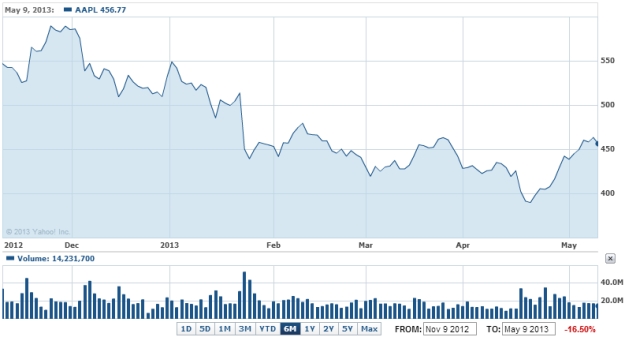 Don't Miss: Munster: Low-Cost iPhone Not a Reason For Worry.