Did Apple Price-Fix E-Books?
Will Apple (NASDAQ:AAPL) become the latest domino to fall in the e-book price-fixing conspiracy scandal?  The U.S. Department of Justice is proceeding with an antitrust lawsuit against Apple that alleges the company conspired with publishers to price-fix e-books. The trial is scheduled to begin June 3 in the District Court for the Southern District of New York.
According to the latest DoJ court filing via Bloomberg, the U.S. is basing its case on evidence that includes emails from Steve Jobs and Senior Vice President Eddy Cue to demonstrate that the Cupertino-based company was attempting "to strip retailers of pricing authority." Apple spokesperson Tom Neumayr says the company is looking forward to "going to trial to defend ourselves."
Judge Denise Cote, who is overseeing the antitrust lawsuit, ordered a telephone conference call in March in order to take a deposition from Apple CEO Tim Cook. The case was originally filed by the DoJ on April 11, 2012. It alleges that the conspiracy started as a way to challenge Amazon's (NASDAQ:AMZN) dominance of the e-book market through its popular Kindle device and its strategy of selling newly released e-books for $9.99.
The original complaint also includes a list of Apple's alleged co-conspirators, including Hachette Book Group, Inc.; HarperCollins Publishers L.L.C.; Verlagsgruppe Georg von Holtzbrinck GmbH and Holtzbrinck Publishers, LLC (doing business as Macmillan); The Penguin Group Inc.; and Simon & Schuster, Inc. However, all of the other defendants have already settled with the U.S. government and Apple is the only remaining defendant in the case.
Apple SVP Eddy Cue states via Bloomberg, "After this lawsuit was filed, Apple learned for the first time about allegations relating to various publisher meetings, phone calls, and dinners. Apple had no information about any such communications during its iBookstore negotiations."
Here's how Apple has traded over the past week.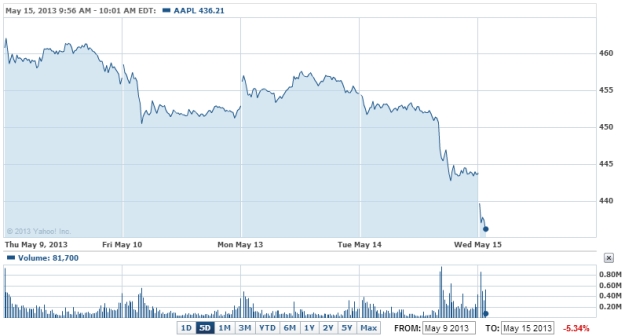 Don't Miss: Apple Gets Noisy With New Input Patent.