Did Fat Fingers Cause This Drop in Google's Shares?
Shortly after the markets opened Monday morning, shares of Google (NASDAQ:GOOG) took an unexpected jolt.
At 9:37 a.m. New York time, Google dropped as much as 3.1 percent before reversing most of the fall within a second, prompting concerns that the the stock was hit by a computerized-trading error. During this period, the stock slid as low as $775 in two trades that totaled 210 shares, reported Bloomberg, and posed a contrast to the gains with which the stock had opened the trading session. While shares rose to a high of $803.96, they have not recovered entirely from the unexpected tumble and are still trading down 0.42 percent on the day, at $796.51, as of 1:02 p.m.
The decline was not large enough to trigger circuit breakers designed to halt trading; such a pause only kicks in when a stock drops 10 percent in a period of five minutes. Google shares are not yet part of the pilot program to test a "limit-up/limit-down" system that will pause trading when shares move more than a specified percentage above or below their rolling five-minute average price, according to the publication.
"I don't think the seller did this on purpose, it was most likely an error," Direct Access Partners managing partner, Mike Shea, told Bloomberg via email. "The problem with errors in high-priced stocks is that you rarely see the market center bust trades because you rarely see the stock trade up or down the 10 percent threshold usually required for review and relief."…
Google's shares have been particularly active as of late. The stock climbed up 4.4 percent on Friday after the company reported profit that beat analysts' expectations thanks, in part, to increased spending on mobile and video promotions by advertisers. Shares also responded to the 145,000-euro ($189.230) fine implemented by German regulators Monday after the agency found that its cars — used to create street level views for Google Maps — violated data protection laws. But neither of these two events should have caused such volatility.
According to data given to Bloomberg from the market-data firm Nanex — which analyzes high-frequency trading — shares of Google tumbled from $796 to $775 in approximately three-quarters of a second, and then rebounded to $793 a second later. In total, this drop involved 307 trades and 57,255 shares from 10 exchanges and dark pools, Nanex said. Even more interesting, for every trade executed, five orders were placed and immediately canceled, noted the firm.
The most likely explanation for the high-frequency trading, as Cabrera Capital Markets senior equity trader, Larry Peruzzi, told the publication, was a fat finger. "Funny how two years ago this would have been a big issue. Now the market has almost become complacent of these errors," he wrote in an email. No comment has yet been given by the Nasdaq OMX Group (NASDAQ:NDAQ), where Google shares are listed.
However, the Securities and Exchange Commissions is working to limit technology breakdowns at venues handling stock, options, and bond trades. The agency also wants to ensure that they can withstand malfunctions that could jeopardize markets. After the flash crash of May 6, 2010, when the Dow Jones Industrial Average plunged 9.2 percent before recovering, and the breakdowns that disrupted Facebook's (NASDAQ:FB) initial public offering, regulators have proposed a new rule. On March 7, 2013, the SEC announced a 373-page rule, called Regulation Systems Compliance and Integrity, that would replace the current voluntary compliance program with enforceable rules designed to protect the market against vulnerabilities created by technology.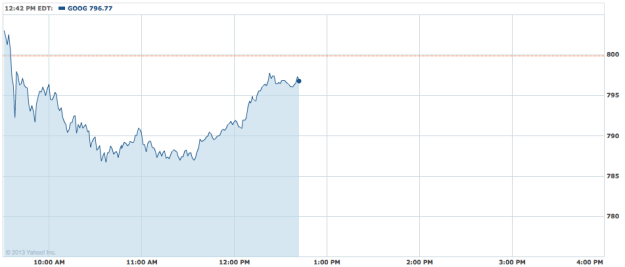 Don't Miss: Is Intel Dissing Apple in Favor of Google and Microsoft?