Did Kevin Spacey Give Netflix its Massive Boost?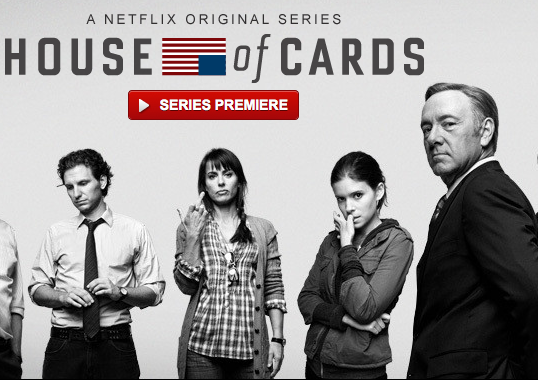 For the first time in its corporate history, Netflix (NASDAQ:NFLX) earned more than $1 billion in revenue, indicating that the company's original programming bet has paid off.
In the first quarter — which saw the launch of Netflix's biggest original series to date, House of Cards, starring Kevin Spacey, the company signed up 2.03 million new U.S. streaming subscribers. This strong gain in subscribers helped the video-streaming provider beat analysts earnings estimates: the company reported profits of 31 cents per share when first-quarter results were released after markets closed Monday. This figure soared above the 20 cents per share analysts polled by Thomson Reuters had predicted.
Netflix reported sales of $1.02 billion, in line with expectations, but shares still jumped as much as 24 percent in after-hours trading…
The first quarter earnings report was investors' first insight into the financial structure of Netflix's original content plan, which was first announced in late 2011. Now, Netflix is preparing to load a long list of original content onto its platform, including a second season of Lilyhammer, a new season of the canceled Arrested Development, a new series from horror expert Eli Roth, one from the comedian Ricky Gervais, and another from Weeds creator Jenji Kohan.
Analysts have voiced concerns over about Netflix's approach to original programming. First, the company decided to release all episodes at once — a strategy that allows a viewer to sign up for the service for however long it takes to watch all the episodes and cancel as soon as they have finished. The second worry is that creating an original series can by costly — House of Cards reportedly cost $100 million for two seasons. But Netflix spokesman Joris Evers told CNNMoney earlier this year that an original series costs just as much as an exclusive streaming deal with an outside studio.
As one would expect, original content boasts significant benefits to counteract the potential negatives. Studios — with whom Netflix has dealt with in the past have begun demanding more for their content in the past two years because they can shop their shows and movies around to Netflix's rivals, like Comcast's (NASDAQ:CMCSA) Hulu, Redbox (NASDAQ:CSTR), and Amazon's (NASDAQ:AMZN) Prime Instant Video. In addition, these content providers, like Time Warner's (NYSE:TMX) HBO and CBS's (NYSE:CBS) Showtime are developing their own streaming platforms…
Back in February, just three weeks after its debut, Netflix said House of Cards was a success. This statement may be hard to back up, as Netflix does not participate in ratings like networks do, but social media was "thick with mentions of both the new programming and the new paradigm," stated New York Times writer David Carr, and the show made the front page of both The New York Times and The Los Angeles Times after its release. The paradigm he referred to is the company's ability to play with logic and algorithms to determine what its customers want to see.
No other company has more information on Americans' movie and television watching habits and preferences than Netflix, and that is where the company has advantage over other Internet-video providers, like Amazon and Hulu. According to the networking provider Sandvine, a third of Internet downloads during peak periods on any given day can be attributed to streamed movies from the service.
To judge consumer sentiment, Netflix reviews 30 million "plays" a day, those times when subscribers pause, rewind, or fast forward programming, along with four million ratings, three million searches, and data showing the time of day when shows are watched and on what devices. Netflix has also used this information in the past to determine what type of content to acquire. But now those statistics are aimed at determining what type of content to produce.
While Netflix's future was once discussed under the dark shadow of its inability to acquire content, especially reasonably priced content, the company is now creating its own model. From this quarter's results, it looks as if the video-streamer has found a viable option, but only time will tell how its original content will stand up.
Investing Insights: Is Netflix A Buy Now?