Did Watching Netflix Just Get Cheaper?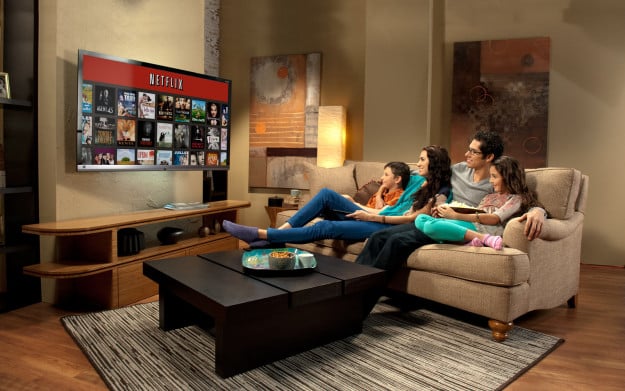 Netflix (NASDAQ:NFLX) has initiated a new plan to solve one of the online streaming service's biggest issues — people who share their Netflix accounts and passwords, allowing multiple people to consume Netflix content while only paying one subscription fee. Netflix is apparently experimenting with new streaming plans that will come in three different options with varying prices that correspond with the number of screens Netflix will allow the plan to stream at the same time. According to a report from Mashable, Netflix's sign-up page is offering three different plans for new members.
The individual plan allows content to be streamed on one device at a time and costs $6.99 a month — a drop of $1 from current streaming plans. The standard plan costs $7.99 a month and allows members to stream on two devices simultaneously. The family plan costs $11.99 a month and allows streaming on up to four different devices at the same time.
A Netflix spokesperson told Mashable that, "We have not dropped the price for Netflix, but are offering some new members a single stream plan for $6.99 a month as a test. We do these types of tests regularly." The website noted that it doesn't appear to be an option for current members to downgrade to the less expensive service.
Netflix CEO Reed Hastings spoke about the shared accounts problem during the company's earnings call in April, according to Market Watch. "We usually like to think that a husband and wife can share an account and that that's perfectly appropriate and acceptable," he said at the time. "If you mean, 'Hey, I got my password from my boyfriend's uncle,' then that's not what we would consider appropriate."
Back in April, Hastings outlined his idea for the more expensive shared plan, but said that he expected less than 1 percent of Netflix's customers to switch to that option. Why should they unless Netflix starts more strictly enforcing the number of screens on which the company allows streaming to occur? Netflix has to tread carefully here to avoid angering its subscribers, who for now are used to being able to stream from multiple devices at once. Currently, it's a common practice for students to use their parents' accounts, or friends to use each other's accounts.
Stopping simultaneous streaming doesn't completely solve the shared accounts problem, although it's a step in that direction. If streaming doesn't occur at the same time, then accounts can still be shared between a basically unlimited number of people.
More From Wall St. Cheat Sheet:
Follow Jacqueline on Twitter @Jacqui_WSCS