Dislike: Facebook Gets Downgraded
Facebook (NASDAQ:FB) just celebrated 1 billion users with a 90-second commercial reminding everyone just how essential the social network is, but investors don't seem impressed by the milestone, as the stock fell as much as 3.3 percent Monday on concerns that the company won't be able to deliver on its promise to monetize mobile advertising.
Facebook also got hit with a ratings cut from Richard Greenfield at BTIG. According to Bloomberg, Greenfield reported: "We have grown increasingly concerned with Facebook's mobile monetization approach." Greenfield put a "Sell" rating on the stock, with a price target of $16 per share.
Catalysts are critical to discovering winning stocks. Check out our newest CHEAT SHEET stock picks now.
Facebook's fall may in some part be related to Zynga's (NASDAQ:ZNGA) suffering — shares of the social gaming company tanked on October 5 after it reported a substantial decrease in its revenue outlook. Zynga is fairly dependent on Facebook as a platform, while Facebook gets a cut of Zynga's revenue. The relationship between the companies means their shares sometimes move in sympathy. When users were spending hours a day on "Farmville" they were exposed to much more advertising, which strengthened Facebook's position in the past. Now that users are spending less time on games hosted by the social network, that position has weakened.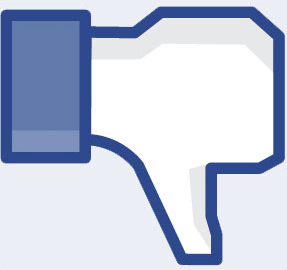 Greenfield thinks the problem may extend beyond mobile. He writes, "In the face of drastically slowing payments revenues and falling investor sentiment and employee morale, it feels like Facebook is pushing advertising monetization harder than they should be, which we believe will harm user engagement in 2013 and beyond."
According to eMarketer, Facebook briefly took over the number one spot for display ad revenue in 2011, but will be surpassed by Google (NASDAQ:GOOG) in 2012. Facebook is expected to grow in the space, beating out Yahoo (NASDAQ:YHOO), but consistently losing to Google going into 2014. Part of Facebook's difficulty is that the social experience it is trying to cultivate is particularly vulnerable to advertising. Monetization strategies in the past have failed because users have complained about how invasive ads ruin the Facebook experience. These difficulties will only be amplified on mobile platforms with much less display space.
Don't Miss: Zynga: Worst Internet IPO Ever?