Do Customers Believe Dell Is Too Big to Fail?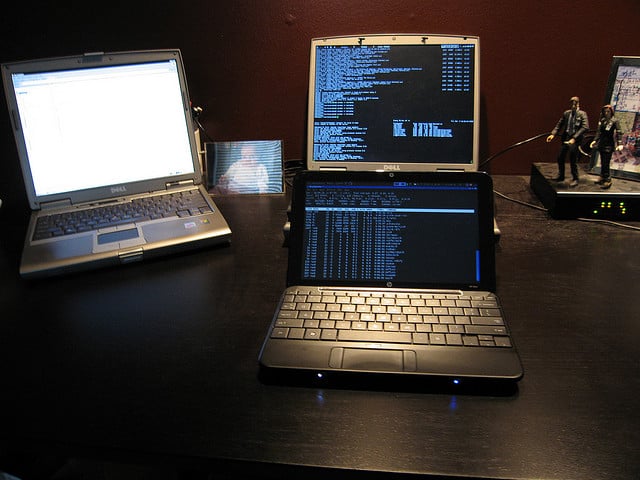 More than a few Dell (NASDAQ:DELL) customers are beginning to wonder whether Dell will be around in the long term, Michael Gavaghen, vice president of sales and marketing at Dell reseller SL Powers, told Reuters. As a result, sales are taking longer to close. "We hold their hand and gently say to just table the purchasing decision another few weeks," said Gavaghen. But he also stressed that customers are "not fleeing by any means."
From Gavaghen's observations, it seems likely that the fight for control of the personal computer manufacturer's future between Chief Executive Officer and company founder Michael Dell and activist investor Carl Icahn has only exacerbated collapsing PCs sales. The research firm IDC has estimated that Dell's personal computer shipments fell 4.2 percent in the second quarter, compared to the year-ago quarter. The months-long — sometimes acrimonious — public disagreement, behind-the-scenes negotiations, and eleventh-hour bargaining that has characterized the buyout process appears increasingly overblown, given the fact that the fight is for a company facing steadily declining sales prospects.
The global outlook for personal computers has grown, if possible, even worse so far this year. PC shipments dropped 11 percent in the first half of 2013, a drop that market research firm IDC called the worst in all the years it has tracked PC shipments. Gartner, a firm that also tracks the PC market, said that the second quarter marked the fifth consecutive quarter of year-over-year declines, the longest period of decline on record.
Now, after sweetening his bid twice to win over major investors and delaying the shareholder vote three times, Mr. Dell is offering $24.9 billion to take the company private. The change in voting rules that came as a condition of his latest improved proposal — a change that prevents shareholders who do not cast a ballot from being counted against the deal — prompted Icahn, who along with Southeastern Asset Management has a rival proposal, to file a lawsuit against the companies board of directors.
As part of Reuters' analysis of the effects that the ongoing battle for Dell have had on the company's finances, the publication interviewed John Pucillo-Dunphy, a senior engineer and owner of Miracle Networking Solutions, which resells Dell computers. He supports Mr. Dell's proposal to take Dell private and is comfortable with the CEO's leadership since it remains unclear what are Icahn's long-term plans for the company. "I have seen the emails from Michael Dell. I haven't seen anything from Icahn," Pucillo-Dunphy said.
Icahn, who owns an 8.9 percent stake in the company and is its second-largest shareholder, has given little information about the future he envisions for the company, except that he believes it has a promising outlook based on its large base of PC customers and it should remain partly a public company. Like Gavaghen, Pucillo-Dunphy has not found the company's customers to be very concerned about the privatization battles. "For the most part, they kind of have that mentality that (Dell is) too big to fail," he concluded.
In the past few days, Mr. Dell has sent messages to both employees and customers in an attempt to allay any fears they may have about the future strength of the company. "I know this hasn't been an easy time. The competition has been aggressive during this period of uncertainty, but we are, as we have always been, determined to prove to you why Dell is the best solutions provider to meet your needs," the CEO said on Friday.
With this drama as a backdrop, Dell has remained the third largest personal computer manufacturer in the world, according to IDC, with a 12.2 percent market share. Meanwhile, China's Lenovo (LNVGY.PK) surpassed Hewlett-Packard (NYSE:HPQ) to take first place in global PC sales in the second quarter, earning a 16.7 percent share of the market, which compares to HP's 16.4 percent share. Aside from personal computers, analysts have found that rival HP has already surpassed Dell in networking and storage, both key sectors of the industry.
In addition, HP has also made giant steps into the enterprise computing arena with its just-launched Moonshot micro-servers. However, Dell spokesman David Frink, told Reuters that,"without individual specifics, (it is) safe to say that the roadmap is robust."
As for analysts, they have by and large abstained from calculating the long-term impact of the privatization battle. But when Dell reports quarterly earnings on August 20, the company's financial position will be on display. "It's going to be a high-risk and painful process," Morningstar analyst Carr Lanphier told the publication. Currently, the average forecast is for $417 million in profit, down from the $875 million reported in the year-ago quarter. Revenue is expected to drop 2 percent to $14.2 billion.
The problem is that Dell's finances are still closely linked to personal computer sales despite the $13 billion in acquisitions the company has made since 2008 in search of a new future in software and networking. PC sales generate nearly half of its revenue. "Investors should take the Silver Lake-Michael Dell bid and run for the hills," SI Group's Brian Marshall told Reuters. He said the company may miss his earnings forecast of 26 cents per share on revenue of $14.3 billion.
Follow Meghan on Twitter @MFoley_WSCS