Does Apple Pay Have Enough Support?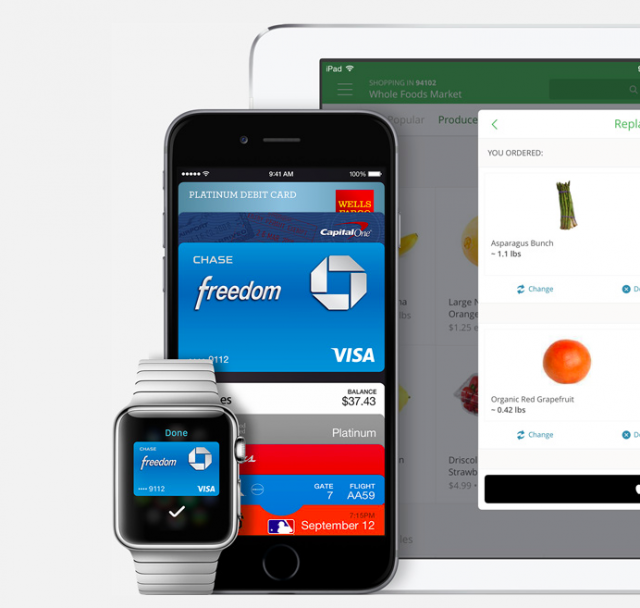 Apple chief executive Tim Cook wants Apple Pay to replace the wallets of millions of users. To do that, the mobile payments system needs to win the favor of consumers, banks, credit card networks, and retailers. But even as recent headlines tout Apple's success in bringing on more banks and card issuers as Apple Pay partners, Apple Pay may lack the widespread support of retailers, who are just as vital to the success of any payments system as the banks, credit card networks, and consumers.
As Mike Isaac reports for The New York Times, dozens more banks, retail stores, and startups have adopted Apple Pay in recent weeks. The new companies that Apple has recently signed on include SunTrust, Barclaycard, USAA, Associated Bank, BB&T, Black Hills FCU, Commerce Bank, Dupaco Community Credit Union, Idaho Central Credit Union, First Tennessee Bank, TD Bank North America, WesBanco, and UW Credit Union. The table on Apple's website, last updated December 10, will likely reflect the changes soon. With these additions, Apple says that Apple Pay now supports the cards that represent about 90% of the credit card purchase volume in the U.S.
Apple chief executive Tim Cook said in October that Apple Pay had registered more than a million cards in its first 72 hours of availability. Whole Foods said that it processed more than 150,000 Apple Pay transactions in the 17 days after the mobile payments system's release, a significant figure given that the system is available only on the new iPhone 6 and iPhone 6 Plus. McDonald's said that Apple Pay accounted for 50% of its tap-to-pay transactions in November. And Walgreens has seen digital wallet transactions double since Apple launched Apple Pay.
Consumers are beginning to try out Apple Pay
While The New York Times notes that other large companies who accept Apple Pay — including Disney, Lyft, Uber, and Airbnb — did not respond with data about their volume of Apple Pay transactions, the volume of adopters suggests that Apple Pay has gained more traction than any other competing service.
Though Apple Pay accounts for what Isaac characterizes as a "tiny fraction" of total transactions, Patrick Moorhead, president of research firm Moor Insights & Strategy, tells The New York Times that "Retailers and payment companies see Apple Pay as the implementation that has the best chance at mass consumer adoption, which has eluded prior attempts." Companies like Google, Verizon, and AT&T have offered similar products in the past, systems that failed to gain wide adoption. "They believe it will solve many of the problems they had before with electronic payments."
However, InfoScout data on Apple Pay's usage on Black Friday shows that just 9.1% of iPhone 6 and iPhone 6 Plus owners had ever tried Apple Pay, and fewer than 5% used Apple Pay during a Black Friday transaction. And while Apple Pay users cited positive experiences with the mobile payments system, many were unaware of which stores accept Apple Pay, or simply forgot that they could use it.
While banks and card issuers make headlines with Apple Pay adoption, retailers are getting on board more slowly.  Staples accepts Apple Pay at its 1,400 U.S. locations. Grocery chains, like Winn-Dixie and Albertsons, accept it. Amway Center, home of NBA team the Orlando Magic, will soon accept Apple Pay at its concessions stands and retail shops during games. The list of partnering retailers on Apple's website also includes retailers like American Eagle Outfitters, Bloomingdales, Chevron, Duane Reade, Macy's, Office Depot, Panera Bread, Subway, and Toys R Us.
Building a mobile payments system requires a delicate — but critical — balancing act
Forrester Research projects that the volume of mobile payments in the U.S. will reach $142 billion by 2019, as The New York Times reported in November, with Denée Carrington, a Forrester analyst, telling The New York Times that much of that will be a result of Apple Pay's effect on the industry. She expects Apple Pay alone to reach $34 billion in e-commerce volume in the U.S. by 2019.
To accomplish that, Apple Pay has to appeal to card issuers, credit card networks, consumers, and merchants. As app development firm Applico noted in November, that's a delicate balancing act that requires providing value to each of those groups. Even if Apple gets three of these groups on board, if it doesn't provide enough value to the fourth, then that group won't join. If one group won't join, then the other three are less likely to join, because then they won't get the full value of participation, either.
While Apple has gotten card issuers and credit card networks on board, Apple Pay doesn't offer a clear economic advantage for retailers, who form the group that will bear the cost of implementing the NFC hardware needed to make Apple Pay a possibility for the other three groups. Retailers have complained that the system doesn't provide them with enough data about their customers, and doesn't handle ads or offers. And several major retailers, including CVS and Rite Aid, blocked Apple Pay as they wait for an alternative called CurrentC from the consortium of retailers called the Merchant Customer Exchange (MCX).
As Re/code's Jason Del Ray reported in November, retailers such as Walmart are convinced that credit card fees are too high. Because the credit card networks set the pricing framework for the fees, Walmart and other retailers blame them. Since Apple Pay supports Visa and MasterCard credit cards, Walmart and other MCX retailers think that the system perpetuates the traditional payments fee structure. MCX's CurrentC app favors store-branded cards or a connection with a customer's checking account — options that carry lower fees than credit card purchases.
Will Apple Pay gain enough support among retailers?
For consumers — at least those who have purchased the new iPhones — Apple Pay will be a much faster and more appealing option than CurrentC, which will run on QR codes. But as Applico points out, the interests of consumers and retailers are in direct conflict. Consumers like that Apple Pay doesn't collect information about their purchases, but retailers have complained that with Apple Pay, they don't get enough data to provide better experiences to their customers. Giving merchants more information would likely weaken Apple Pay's security, a major draw for consumers.
According to USA Today, a recent report from UBS notes that "New payment approaches need retailer support, which Apple Pay largely lacks." UBS thinks that banks and retailers in 2015 will work together to create their own digital payments solutions that offer benefits and discounts to consumers, and allow banks and retailers to avoid handing over the payments business to Apple. Instead of adopting universal systems, some retailers are likely to create their own systems. Promotions could be a significant inducement for consumers to use a system other than Apple Pay.
If one of Apple Pay's competitors can make a better offer to retailers, Apple may find it difficult to dominate in mobile payments. Applico notes that Apple could subsidize the cost of NFC-enabled hardware for retailers — just as Square gives away a card reader to merchants who sign up for its service — a cost that might be worthwhile to take on if it ensures Apple Pay's future as a dominant mobile wallet.
While a million cards added in 72 hours sounds like a lot, the scale of the payments system is vast. Apple Pay will likely catalyze widespread changes in the broader payments landscape, and is already making significant strides when it comes to forging new relationships across the four groups involved. But it's very early in the development of mobile payments, and there is room for many competitors to capitalize on the changes that Apple Pay makes possible.
More from Tech Cheat Sheet:
Want more great content like this? Sign up here to receive the best of Cheat Sheet delivered daily. No spam; just tailored content straight to your inbox.