Does Apple Still Have Something to Prove?
Focusing on the rest of 2013 and 2014, Apple (NASDAQ:AAPL) may pull through, although it does have a few hurdles to get over and a lot to prove to investors.
In a note received by Wall St. Cheat Sheet from Wells Fargo Securities, analyst Maynard Um reiterated the firm's Outperform rating on Apple shares. Despite dropping fiscal 2013 earnings per share expectations from $44.51 to $38.71 and fiscal 2014 from $49.86 to $43.66, Um believes Apple may have the worst behind it.
Wells Fargo also dropped its value range for Apple shares from between $600 and $630 to between $485 and $525. Even though there may be a lack of new products for the next several months, Um said the firm expects "sentiment and supply chain news to start improving."
Some of the reasoning behind Wells Fargo's rating is that it thinks Apple has learned from its last product transition and will do a better job managing inventories as it makes the shift to the next set of devices. If Apple can avoid the need for channel price protection, it can maintain higher gross margins…
Also, some of Apple's plans to boost value for investors could be make the stock more attractive. As Apple announced it would be boosting its quarterly dividend to $3.05 and increasing its share repurchase program to $60 billion. Alhough the company will take on debt to do so, it will be avoiding the hefty tax that would be levied if it repatriated its foreign revenue.
On top of this, Apple Chief Executive Officer Tim Cook announced "new product categories" in the near future. However, Um noted the lack of a time frame and details on that news, which focused more on Cook's "plans for expanded distribution." Many competitors have strong and wide distribution channels, and Apple could benefit from widening the channels it has available, which could include finding more mobile carriers to support its iPhones.
There may be a little trouble with when devices are coming out, of course, as many investors had been expected early summer launches of some devices, like an updated iPhone and iPad Mini. Cook suggested that the majority of products would not be released until autumn or 2014, which could be a big sore spot for investors. But Um said it may be best for Apple to spread out its product refreshes as that would keep consumers with tight budgets who can't be expected to upgrade all of their i-devices at the same time.
Here's how Apple has traded over the past week: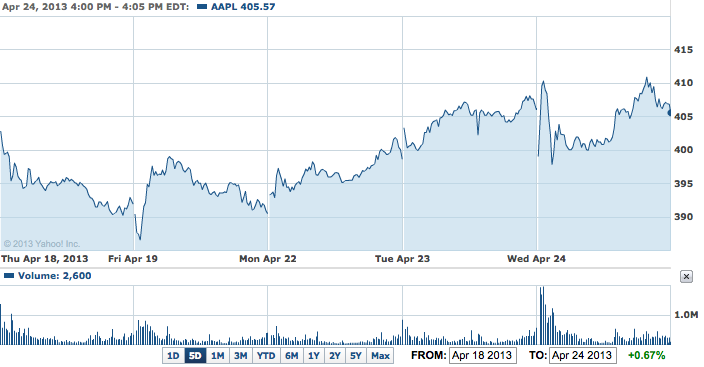 Don't Miss: Here's Your Cheat Sheet to Apple's Buyback Program.