Does Apple Think It Can Best Google Maps?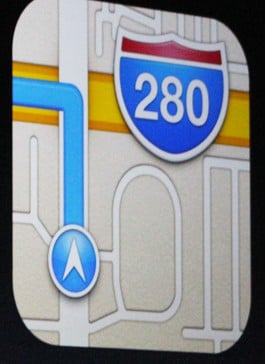 Google (NASDAQ:GOOG) Maps has its "Street View," which gives users a panoramic view of cities and rural areas worldwide based on actual photographs that merge together into a virtual world. Now, Apple (NASDAQ:AAPL) is attempting to create an equivalent for its own mapping service. A patent filing published by the U.S. Patent and Trademark Office indicates that the company has its sights set on creating a virtual navigation system based on panoramic location data — like Google Maps — for its mobile devices.
The patent, entitled "3D Position Tracking for Panoramic Image Navigation," described a graphical user interface that takes advantage of an iPhone or iPad's built in sensors to navigate panoramic imagery. According to the filing, Apple's invention takes current technology to a different level. Google's Street View, for example, traps users in a "bubble" surrounding a given intersection, and it only allows users to pan within that bubble through an input device like a mouse or a multi-touch screen. "A tedious experience for mobile device users on the go," as AppleInsider noted.
But Apple's invention — which will use tracking subsystems and onboard sensors to translate physical motion into a panoramic user interface — will theoretically allow users to move through virtual space at a street-level. Movement in this dimension will be controlled by moving the device forward and backward or left and right, with panoramic data being supplied by built-in storage or streamed wirelessly over cellular data networks…
Rumors for an iPhone 6 have already begun circulating — with speculation that the device will boast a seamless, flexible display — and these multiple displays could come into play with Apple's map upgrade; the visible area of a panoramic view could be greatly expanded with this technology.
The application also makes mention of the use of interior imaging data, which will enable users to "walk into" a building using their mobile devices. As AppleInsider reported, this feature could even lead to a virtual marketplace, meaning once a user enters a structure, other actions can be performed. A user could even select "an object for purchase."
Currently, Apple's iOS Maps does not have a street viewing option because the service does not have the necessary imaging data. (Remember the problems that Apple Maps had at launch back in September.) When Apple Maps first replaced Google's mapping service as the default on iOS, some users missed the street-view feature. While it is still unclear when and whether Apple will actually implement the new technology in future versions of its map app, the patent application proves that Apple is working to make its service a more competitive alternative to Google Maps.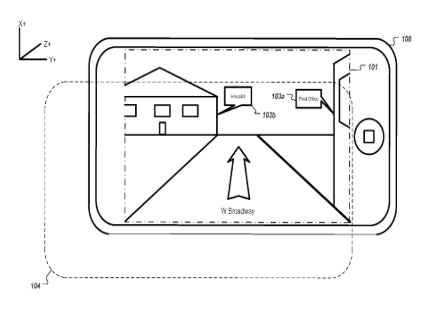 Here's how Apple and Google traded on Thursday:

Don't Miss: Analyst: Here's How the iPad Mini Saved Apple.