Does Apple's Buyback Pass Warren Buffett's Litmus Test?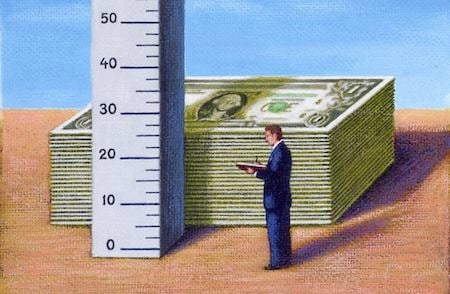 Share repurchases have a tricky history, particularly in the technology industry. Apple (NASDAQ:AAPL) is currently the anchor of the conversation that began pretty much when the first publicly-traded company decided to spend its money buying back stock instead of using it for, well, anything else.
At a glance, share repurchases indicate that a company thinks the best way to spend its money is by investing in itself. Sometimes this is true, and sometimes it is not. Dell (NASDAQ:DELL) infamously botched its buyback strategy and effectively wasted a huge amount of cash by purchasing shares at a high premium. The nearly $40-billion fiasco has become the gold standard for what not to do with a buyback program, and its zeitgeist has been summoned in reference to Apple's own tremendous capital return program.
Investors, seasoned with hindsight, want to make sure that Apple actually deploys its cash reserves in a competent way. The 15 percent dividend increase seems to get the vote of approval all around, but the buyback program — up $50 billion to a total of $60 billion — has raised some eyebrows.
Dell and others serve as examples of what investors don't want to see in a repurchase program. With that in mind, it's also important to look at examples of what investors should want to see. A 2011 repurchase program by Warren Buffett's Berkshire Hathaway (NYSE:BRKA)(NYSE:BRKB) is a prime example.
"Recently, a number of shareholders have suggested to us that Berkshire repurchase its shares," Buffett wrote in his 1999 letter to shareholders. "Usually the requests were rationally based, but a few leaned on spurious logic."
"There is only one combination of facts that makes it advisable for a company to repurchase its shares," he continued. "First, the company has available funds — cash plus sensible borrowing capacity — beyond the near-term needs of the business and, second, finds its stock selling in the market below its intrinsic value, conservatively-calculated."
In 2011, after about 40 years of shunning buybacks, the board of directors at Berkshire decided the time was finally right. They authorized the company to repurchase Class A and Class B shares at a price up to a 10 percent premium on the book value of the shares (a premium which was later adjusted). True to his original logic, Buffett's buyback program met the constraints he outlined 12 years earlier.
When the repurchase was announced, Berkshire had nearly $58 billion in cash, and shares were trading close to book value. The board stated that repurchases would not be made if Berkshire's consolidated cash equivalent holdings fell below $20 billion. What's more, the board said that the duration of the program was indefinite, and they were in no way obligated to purchase any shares at all, if they chose.
"In the opinion of our Board and management, the underlying businesses of Berkshire are worth considerably more than this amount, though any such estimate is necessarily imprecise," the repurchase statement said. "If we are correct in our opinion, repurchases will enhance the per-share intrinsic value of Berkshire shares, benefiting shareholders who retain their interest."
What Buffett did was clearly outline his buyback strategy and why he thought it was a good idea. This reassured investors that Berkshire would only spend money in a way that made sense. To a degree, Apple's buyback program does the same thing. The release doesn't reveal the specific constraints that Apple has in mind, but at a glance CFO Peter Oppenheimer's comments suggest that he has some in mind.
"We continue to generate cash in excess of our needs to operate the business, invest in our future, and maintain flexibility to take advantage of strategic opportunities," he said in the announcement. As long as this is true, the repurchase satisfies the first of Buffett's conditions for buybacks.
The company was unclear about any price constraints on the buyback, which is one reason why some investors are waggling their eyebrows at the program. It is unlikely that Apple will make the same mistake that has plagued others in the tech industry and repurchase shares at a massive premium — but really, there's no telling what goes on behind the doors of an Apple board meeting.
At a trailing-twelve month price-to-earnings ratio of 9.44 and a book value around $144 per share, it's not hard to see why Apple may think it's a good idea to repurchase some shares at the current price.
Here's how Apple (NASDAQ:AAPL) traded Friday: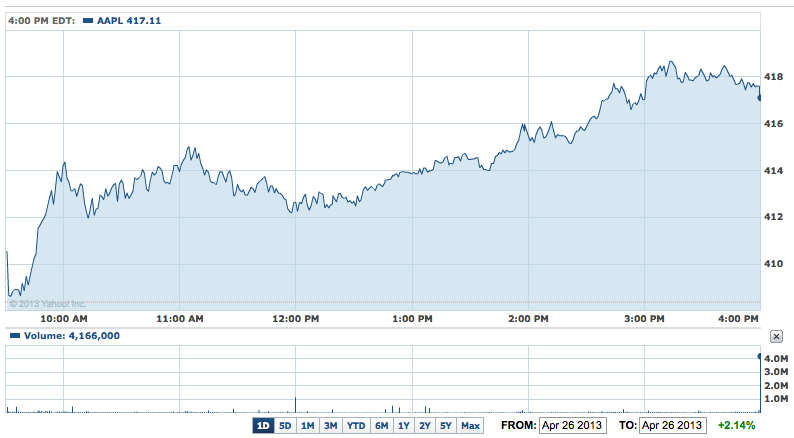 Don't Miss: Are Macs Better Than PCs at Being PCs?