Does Siri Know Your Secrets?
What does Apple (NASDAQ:AAPL) do with all the voice recordings it collects through Siri, its popular voice-activated personal assistant program? Based on some information provided by the Cupertino-based company, Robert McMillan at Wired provides some answers to these privacy concerns.
Any voice commands directed to Siri are immediately sent to Apple for data analysis, reports Wired. However, rather than being identified by your e-mail or Apple user name, the information that Siri submits is cataloged by a random number generated by Apple. Apple maintains that the primary purpose for collecting this information is to improve the Siri program. Apple spokesperson Trudy Muller states that, "Our customers' privacy is very important to us."
After six months, even the random number association is removed from any voice recording. However, Apple may still keep the anonymous voice files for another 18 months for "testing and product improvement purposes"…
"Apple may keep anonymized Siri data for up to two years. If a user turns Siri off, both identifiers are deleted immediately along with any associated data," states Muller via Wired.
Although Apple seems to be taking precautions to remove personal identifiers from the voice recordings it is collecting, it cannot remove the personal contents of any voice commands that are spoken to Siri. In other words, the things you say to Siri may identify you better than an e-mail address or Apple user name could. For this reason, Muller reminds users "to really think before you speak."
Apple shares rose 1.25 percent to $396.94 in midday Friday trading.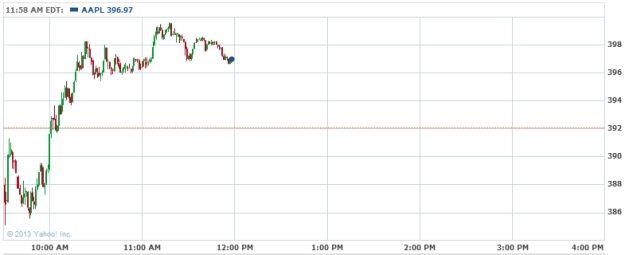 Don't Miss: Is RadioShack Spending More Than It Can?