Does Social Media Have an Age Limit?

The world of social media is often considered to be a young person's playground, but many older adults are joining in on the fun.
While there have been some doubts about growth rates among teenagers, older adults are still increasing their presence in social media. According to a new report from Pew Internet, 72 percent of adults in the Untied States currently use social networking sites, compared to 67 percent last year. When Pew Internet first started tracking the data in February 2005, only 8 percent of adults used social networking sites.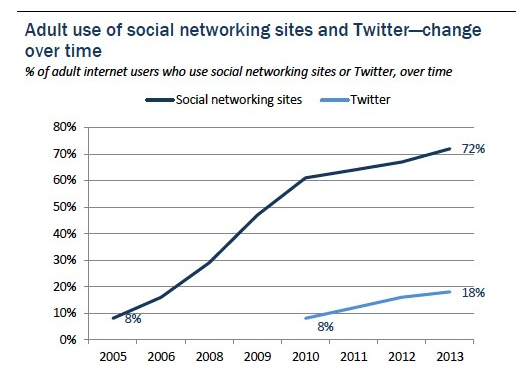 The report also notes that Twitter alone attracts 18 percent of online adults, more than double the 8 percent of online adults who used Twitter in November 2010.
Almost 90 percent of adults age 18 to 29 use social networking sites, the highest amount across all age groups. However, older age groups also have impressive figures. Seventy-eight percent of adults age 30 to 49 use social networking sites, while 60 percent of adults age 50 to 64 do the same. Furthermore, a whopping 43 percent of adults age 65 and older said they use social networking sites.
As the chart below shows, the adoption rate among those 65 and older has tripled over the past four years.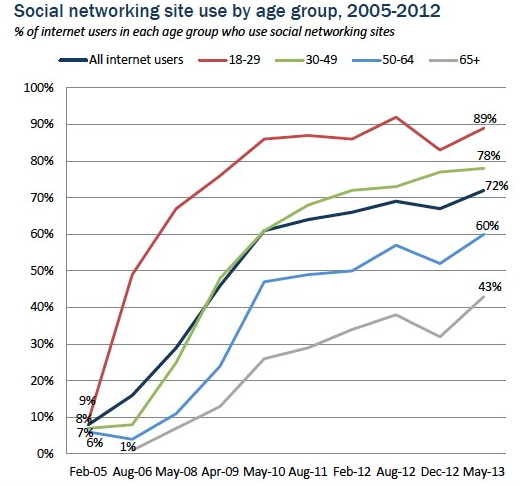 Social media has also been gaining popularity on Wall Street. After being tagged a social outcast, shares of Facebook (NASDAQ:FB) recently recaptured their initial public offering price of $38. On Monday, Facebook made a new 52-week high above $39 following an upgrade.
Piper Jaffray raised its price target on Facebook from $38 to $46 and currently has an Overweight rating on shares. The company believes there is potential from Facebook's reported video ad offering. As of the end of the second quarter, Facebook has more than 1 million active advertisers and nearly 700 million daily active users.
More importantly, Facebook was able to crush any fears about a weak mobile strategy. Revenue from mobile advertising represented 41 percent of advertising revenue in the second quarter. Meanwhile, the number of monthly active users on mobile jumped 51 percent year-over-year to 819 million.

Several other Internet names have also performed well. Shares of LinkedIn (NYSE:LNKD) — the world's largest professional network — have doubled this year, while Yelp (NYSE:YELP) shares have nearly tripled. Groupon (NASDAQ:GRPN) shares have surged about 80 percent this year.
Follow Eric on Twitter @Mr_Eric_WSCS
Don't Miss: If You Live With Your Parents, You Might Be a Millennial.