Does This Apple Patent Reveal the Next MacBook Innovation?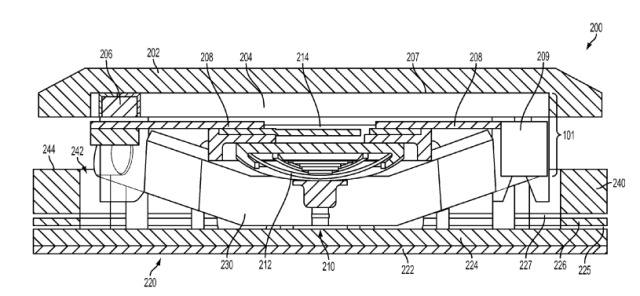 While Apple (NASDAQ:AAPL) recently refreshed its MacBook product line with some minor changes, including a slightly faster Intel (NASDAQ:INTC) Haswell processor and a price drop, a recently published patent filing uncovered by Apple Insider suggests that the company's next models may feature some major changes. In a patent titled "Multi-functional keyboard assemblies," Apple described a revolutionary new type of keyboard that features touch-sensitive keys with customizable miniature display screens on each key. Some embodiments will also feature haptic feedback mechanisms that could include vibrations, clicks, or increased button resistance. According to the patent abstract, each key will be able to "receive at least two distinct types of inputs and/or receiving at least one type of input and providing at least one type of output."
As noted by Apple in the patent background, conventional keyboards feature keys, or "keystacks" that are "only able to perform one simple task, such as providing input to the electronic device, when a user presses the key." However, Apple's "multi-functional" keyboard would also use its capacitive touch sensors to receive additional input. In this sense, Apple's proposed invention marries the touch-enabled capabilities of an iPad or iPhone with a traditional keyboard format. The multi-functional keyboard would allow users to navigate content with swiping gestures, similar to the way that content is navigated on a conventional touchscreen device.
Each key on Apple's multi-functional keyboard would also be capable of displaying various glyphs, or symbols. Some embodiments of Apple's invention use various wavelengths to illuminate different glyphs. "(D)ynamic glyphs can be generated using multiple light sources and filters of a circuitry module within the keystack," explained Apple. "For example, a first glyph (e.g., a capital 'A') can be generated using a first light source that may emit light at a first wavelength (e.g., at a red wavelength), and a second glyph (e.g., a lower case 'a') can be generated using a second light source that may emit light at a second wavelength (e.g., at a blue wavelength)."
Apple's invention also allows the keyboard to output information to users via haptic feedback mechanisms. Haptics, or tactile feedback technology, is already available on Apple's iPhone in the form of vibration notification alerts.
While the "Multi-functional keyboard assemblies," patent outlined many unique keyboard technologies, Apple Insider noted that Apple's invention also builds on concepts first seen in Art. Lebedev Studio's Optimus Maximus keyboard. Like Apple's proposed multi-function keyboard, the Optimus Maximus keyboard featured keys that could display different symbols. However, unlike Apple's invention, the Optimus Maximus keyboard does not include touch sensors or haptic feedback mechanisms.
Although it is unknown if the multi-functional keyboard described in this patent will be implemented in the next MacBook refresh, it should be noted that Apple is rumored to be developing a new type of MacBook Air with major hardware changes for release later this year. According to KGI Securities analyst Ming-Chi Kuo, Apple will release an "ultra-slim" 12-inch MacBook Air in fourth quarter of this year, reports Apple Insider.
More From Wall St. Cheat Sheet:
Follow Nathanael on Twitter (@ArnoldEtan_WSCS)