Dough Raising, Yahoo Acquires Bread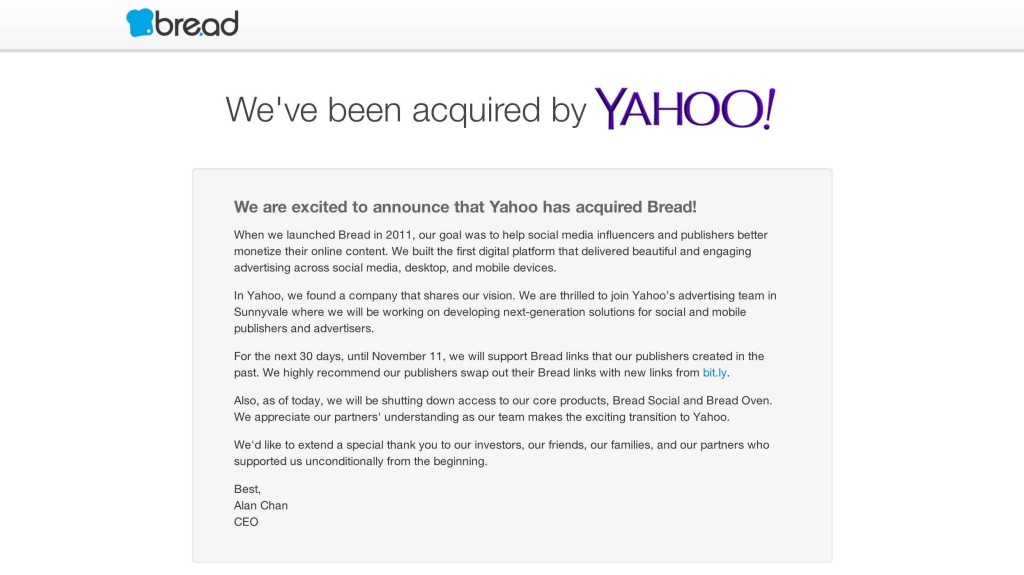 If you've been using the start-up Bread for the past two-and-half years, you're about to see some changes. A visit to its website will inform you it has been acquired by Yahoo (NASDAQ:YHOO). Now with Yahoo, according the the website, Bread "will be working on developing next-generation solutions for social and mobile publishers and advertisers."
Even if you weren't using Bread, it is worth understanding what the company did. Bread offered a service that shortened URLs, with a twist: making money from content sharing. Clicking on one of its shortened URLs prompted an ad. The ad would pop up on the screen for before taking the clicker to the final destination. The links were intended to be shared on platforms such as Facebook or Twitter. Ads could be for products or causes, and TechCrunch reports that Bread raised $3.5 million during its independent run. However, the site also adds that Bread had been promoting itself to companies in hopes of an acquisition.
According to AllThingsD, six of the company's employees will be joining Yahoo's advertising staff, and  Bread will stop selling its services as a result. Bread is just the latest in a string of acquisitions for Yahoo since Marissa Mayer took over as chief executive. Previous companies taken in under the Yahoo brand include Tumblr, a blogging service, and more recently HitPost, an application developer that created apps to connect sports fans.
But Bread offers more than another platform for expanding the Yahoo brand or services offered. The Bread team provided a way to make money through social media, a conundrum that dogged the Facebook initial public offering, and is an aspect of business Twitter is expected to fully explain ahead of their own IPO. It is hardly an issue that will go away on its own; innovation is necessary in order to find a way around it.
The team behind Bread may be able to bring a fresh perspective to Yahoo, helping the company find ways to profit from online and mobile advertising or increase revenue. Although the company posted a positive second-quarter surprise with an share-price uptick of 15.38 percent, Forbes reported last week that the past two quarters have seen a decline in revenue. Yahoo is scheduled to report earnings for the third-quarter Tuesday, October 15.
Don't Miss: Jeff Bezos's 7 Secrets to Running the Internet Retail World.