EA's E3 Game Announcements: 'Battle: Hardline' and Many More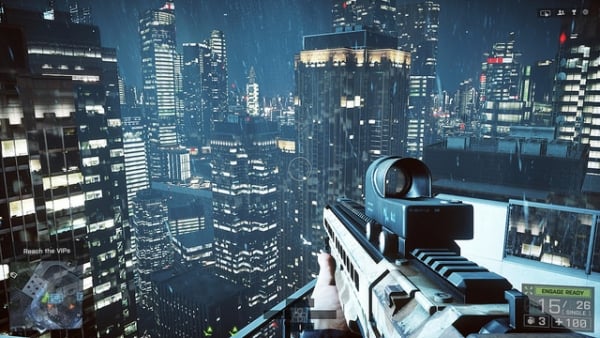 Following up shortly after Microsoft's press conference Monday at the Electronic Entertainment Expo, better known as E3, Electronic Arts came on to show a slew of upcoming game titles some further away, and some available in some form as early as today. During the speech, the developer promised more "interesting worlds, epic landscapes, and ridiculous action." So without further ado, here are the games EA announced that will promise those things.
Star Wars Battlefront
Though only a brief featurette on the upcoming title, EA gave a bit more of a glimpse of the game than it had in the earlier teaser trailer, which didn't show off game footage. EA showed off its team going through the process of developing the game, from capturing actual props from the movies to create the digital game models as well as heading out to the movie locations to capture the look and feel there. They also showed a glimpse of AT-ST Chicken walkers stalking along as well as some high-res landscapes, such as Hoth. The game is planned for Spring 2015.
Dragon Age: Inquisition
A trailer for the next installment in the Dragon Age series has already been out for a short while, so EA had to step up and show off a bit more of the game, including its colorful, sprawling world, curious and frightening creatures, and overwhelmingly large dragons. The development team is aiming to implement powerful narratives amid wide, open-world gameplay. The presentation also showed off two play modes — one which allowed the player to jump between characters to strategically take on a dragon in real time, attack the beast one leg at a time, as well as a top-down strategy style that pauses time, allowing the player to control and coordinate each character.
Mass Effect
That's right, more Mass Effect. A lot more. Of course, previous games in the franchise have been plenty large, and plenty sprawling — what game involving ample space travel isn't? But EA is looking to up the ante, and the new generation of consoles should make it much easier to do. Fans wanted to go new places and see new characters, and that's just what EA claims to offer with a new, wide region of space, allowing players to hop across the galaxy. Don't forget it'll all happen with bumped up graphics. Little else was offered on the game — not even a peak at Shepard's face, though a peak at some high-res armor in which s/he could have been hiding.
Untitled new IP
There's not much to go on here, but EA mentioned that it was working on some entirely new IP and was developing real-feeling open worlds that will change between night and day and through the seasons. However beautiful it may have looked, nothing in the way of gameplay was shown, though it did appear somewhat reminiscent of the anticipated No Man's Sky from Hello Games, though only in regard to beautiful settings.
The Sims 4
If you were convinced that The Sims 2 would actually be the last installment in the franchise when the developer said just that, then EA wants to prove you wrong even more. It looks to add a new element to controlling each sims mind and body by also adding control of their hearts for the first time. The game will allow for more control of character traits and interests, feature full neighborhoods, and have sims interacting in all sorts of new ways — including dissing one another's weak poetry. Also added to the game is the ability to load other players' sims into your own game.
UFC
The next installment in the Ultimate Fighting Championship franchise looks to continue the games with naturally upped graphic quality, more intense fights that allow players to leverage elements like the cage for off-the-wall jump kicks, and surely more. For any that are more than hardcore fans Bruce Lee, it will let you play as the iconic martial arts master. This will release soon, on June 17.
NHL 15
As with any new installment in a long-running franchise, you can expect plenty of graphic and gameplay upgrades in this game. One thing EA seems to be focusing on its sports franchises is player emotion, and having that come through more in how players act and play. This game will also put physics on all the players on the ice and the puck, making for more realistic heavy hitting.
Madden 15
Fans will naturally flock to the next Madden game, but this time, they might do a lot less simulating on the defensive side of play. EA worked to enhance defense to make it more exciting to play, flipping the camera so players can run forward, adding more control to work around a block or strategically move it, as well as enhanced tackling options, so you can go for the big hit or the sure run-stopper.
Fifa 15
Again, EA is bringing more emotion to the game, keeping players emotion throughout the game and between matches. Lose one match, and your footballers might be a bit more aggressive in their next match-up. This game will add damage to the turf, more energetic stadiums, and players crashing with grabbed shirts, shoulder slams, and more.
PGA Tour
Continuing right on with the sports, EA also will be continuing its golf franchise, adding more and more. This time, the game will run on the Frostbite 3 engine, so don't be surprised if a platoon of Battlefield soldiers force you to take a mulligan. The game will come out in the spring of next year, and include fully rendered environments on each course with no load time, as well as wild fantasy courses — the one showed in the demonstration had a battleship smashing into the coast right in the middle of a long drive toward the green.
Untitled Criterion Games project
Despite being in early stages of development, EA had Criterion Games show off their latest project, which steps away from the constant car focus of games like Burnout. Of course, cars will still be around, but this time they're looking to up the adrenaline for all the junkies, adding ATVs, snowmobiles, helicopters, boats, jetskis, parachutes, wingsuits, and odd combinations like links between parachutes and cars for a wild paragliding experience similar to that found in the Just Cause franchise. Everything will be in first person as well, for a more visceral, exciting experience (perhaps virtual reality, anyone?) One developer said, "This is gonna be the biggest game Criterion's ever made."
Dawngate
Looking to improve on the Multiplayer Online Battle Arena game genre occupied by games like Dota, EA showed off Dawngate. The game attempts to offer engaging stories behind each level and character, helping players feel more invested or more able to connect. There should be plenty of story, as well as all sorts of ways to combine characters for unique strategies galore. Fans of the genre have a chance to check it out in beta before the release.
Mirror's Edge
Though not given the in-depth coverage in the presentation of some of the other games, EA is definitely ramping up press for the next Mirror's Edge game (if the Facebook page is any indication.) The next-gen graphics should offer great graphics for all the running and jumping action, as well as smoother gameplay — key for that flow which can be the difference between jumping across two building and jumping between a roof and the pavement below. The modern hardware will also make open-world gameplay possible, a very interesting prospect for a parkour game like this. For fan's this game will give the backstory of the original game's lead, Faith.
Battlefield: Hardline
In a clear case of "last, but not least," EA saved the next installment in the Battlefield franchise for last. Recently leaked footage of the game showed off plenty already, but the presentation gave an even greater glimpse at the expansive gameplay. With tasers, baseball bats, and hand-to-hand skills for take downs, getting up close and personal will feature heavily. Grapnel hook launches, climbable ropes, and zip-lines will create all new levels of traversing the in-game world, which sprawls all over cities, going in and up massive buildings, from rooftop to rooftop, from air to ground, all along the roads, and probably plenty of other places. Of course, the game will also include plenty of vehicles, though some may not be as familiar as others, but maybe equally as useful (i.e. a fuel truck ramming into a police squad to clear the way for the loot carrier in a fiery explosion.)
The biggest part of the announcement was the October 21 release and that there is now an official beta. PS4 players can extra easily get into the beta if they own Battlefield 4, and all at 60 frames-per-second and 1080p resolution.
More From Wall St. Cheat Sheet: