EBay Says No to Icahn Proposal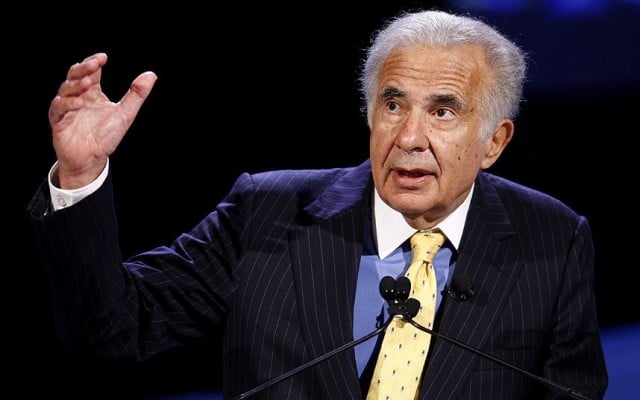 In eBay Inc.'s (NASDAQ:EBAY) earnings call on Wednesday, CEO John Donahoe said the company does not agree with activist investor Carl Icahn's claims that spinning off the company's PayPal division is "a no-brainer."
"First, eBay accelerates PayPal's success. Second, eBay data makes PayPal smarter. And third, eBay funds PayPal's growth," Donahoe told analysts during a post-results conference call, according to Reuters. Donahoe believes that eBay will lose important synergies it gets from owning the PayPal online payments service if the division is spun off.
This could lead to a drawn-out battle with Icahn, who took a 0.8 percent economic interest in eBay this month and nominated two of his employees to the company's board, Reuters reports. Icahn is known for using strong-arm tactics to influence the companies he has investments in.
Icahn wrote a letter to Donahoe last week proposing the spinoff of PayPal and then discussed his ideas for the company in an interview with Bloomberg TV. "And we've done a lot of work on eBay and we believe without question it's a no-brainer that PayPal should be spun off," Icahn said in an interview with Bloomberg TV's Trish Regan and Adam Johnson. The full interview can be viewed here.
"Well, we think that it all fits in with the philosophy that we have that shareholders should have a lot more to say in big-picture items like companies. This whole business of the divorce between ownership and management I really think is hurting our economy greatly. And I think it's time that shareholders should have more to say in the big picture, not micro managing," Icahn said of his proposal that PayPal be spun off.
"You spin it off and the shareholders would own PayPal and they would own eBay. And there's no reason they should be together at this point in our opinion. In fact, I think it would be helped by a management team that is separate and can go their own way. And I think the multiple would go up dramatically, and also the health of the company would be better," he went on to say.
Some analysts who spoke to Reuters agree with Ichan, saying that separating PayPal from eBay would encourage more online retailers to adopt the service and increase PayPal's opportunities to grow.
EBay's earnings report showed that PayPal grew 19 percent during the fourth quarter of last year. PayPal also saw a 16 percent increase in global active accounts year over year and a 22 percent growth in the net number of payments made using the service. PayPal has grown at a faster rate than the rest of eBay's businesses in recent years. As eBay struggles to compete with other online retailers like Amazon (NASDAQ:AMZN), the PayPal online payments service has exploded in popularity. Analysts cited by Reuters said that PayPal currently accounts for 40 percent of eBay's total revenue and half of the company's total market value.
EBay stock is up a little over 1 percent during trading on Thursday after the company posted solid earnings that came in above analyst expectations. Earnings per share came in at 81 cents, up 16 percent from a year ago and a penny better than analysts had forecast. Revenue rose 13.5 percent to $4.53 billion.
More from Wall St. Cheat Sheet:
Follow Jacqueline on Twitter @Jacqui_WSCS