Ellison Talks Up Oracle's New Products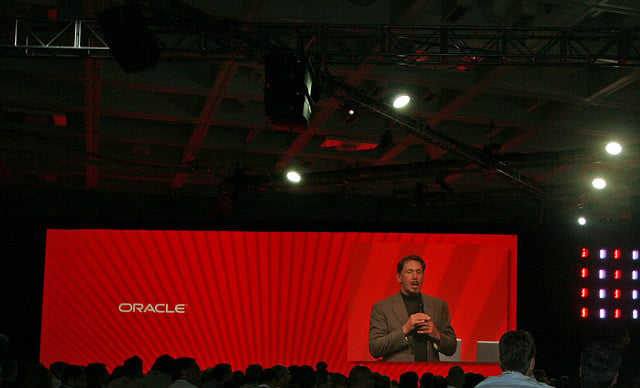 Oracle (NASDAQ:ORCL) Chief Executive Officer Larry Ellison showed off a new kind of database that uses memory chips to store information rather than traditional disk drives, making it 100 times faster than previous databases, at the Oracle OpenWorld conference in San Francisco on Sunday.
According to a report from the Wall Street Journal, "in-memory" databases have been growing in popularity as memory chips are much more efficient and have recently become less expensive. Other new products Ellison spoke about at the conference included computing hardware to go with the new software, a new machine to back up the faster and more powerful databases, and a cloud-based server. Ellison made a point to say that companies would still have traditional server and software options as well as cloud-based ones.
Oracle's tactics aren't without critics. Some have said that Oracle's services will become irrelevant as companies turn to software accessed via the Internet that don't require them to maintain their own servers. Rival company SAP AG (NYSE:SAP) has already been offering an in-memory database system called HANA. A spokesperson from SAP told the Journal, "SAP HANA has been delivering real-time performance to our customers in real-world environments for years."
Ellison talked about the in-memory database system when Oracle reported fiscal first-quarter earnings last week, saying, "Virtually every existing application that runs on top of the Oracle database will run dramatically faster by simply turning on the new In-Memory feature. Our customers don't have to make any changes to their applications whatsoever; they simply flip on the in-memory switch, and the Oracle database immediately starts scanning data at a rate of billions or tens of billions of rows per second."
Overall, Oracle's earnings were merely okay with the company beating expectations on earnings per share but falling a little short on revenue. Software and cloud subscriptions accounted for 20 percent of Oracle's adjusted revenue and license updates and product support accounted for 52 percent.
Despite the critique from SAP, Salesforce (NYSE:CRM) CEO Marc Benioff tweeted that he was impressed with Ellison's presentation, saying that Oracle and Ellison "remain the absolute leader in database technology" according to Forbes. Ellison is ranked as the third-wealthiest American in Forbes's Top 400 list.
Follow Jacqueline on Twitter @Jacqui_WSCS
Don't Miss: These Analysts Were Completely Wrong About Apple.