Facebook's Sheryl Sandberg Joins Youngest Billionaires List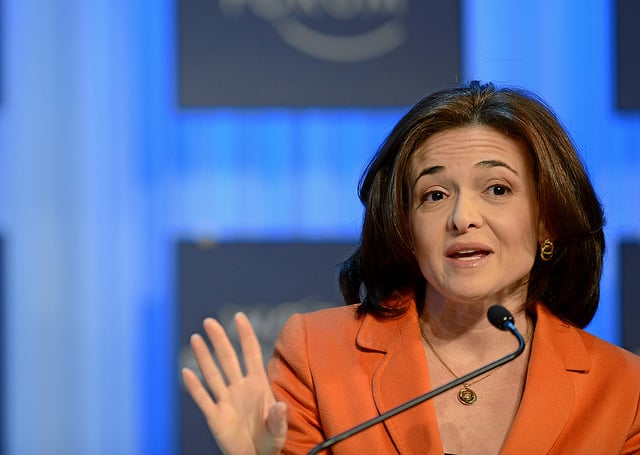 Facebook (NASDAQ:FB) shares closed at a record high of $58.51 on Tuesday, and that new high made Chief Operating Officer Sheryl Sandberg one of the youngest billionaires in the world, according to Bloomberg's Billionaire Index. According to Bloomberg, Sandberg owns 12.3 million shares in Facebook, a stake valued at $750 million. She has made about $300 million selling Facebook shares since the company went public and still owns 4.7 million in stock options that she began vesting last spring.
The 44-year-old is also famous for writing the New York Times Best Seller Lean In: Women, Work and the Will to Lead, a book about how she overcame her own struggles as a female executive in the male-dominated Silicon Valley. Sandberg's thesis is that women need to be less afraid and more self-confident about their ability to pursue difficult jobs while also balancing life at home. If you "lean in," work hard, and assume by default that you are capable of something, you're more likely to succeed.
Sandberg's strategy seems to have worked for her. She began her career working as a research assistant to Lawrence Summers at the World Bank, then became chief of staff for him at the Treasury Department, then put in six and a half years at Google (NASDAQ:GOOG) before moving to Facebook in 2008, all the while balancing her family life with her husband and children.
Lean In began as a popular TED Talk Sandberg gave back in 2010 about the difficulties women face in the workplace. "The problem is this: women are not making it to the top of any profession, anywhere in the world," she begins the talk. Both the lecture and her book seek to figure out why this is, and what women can do about it.
Sandberg's philosophy encourages women to "own their own success" and stop being hesitant to ask for the things their male peers are accustomed to asking for. She simultaneously acknowledges her own self doubts, recognizing that if successful women share that they too have insecurities and moments where they question their own abilities, other women will feel more capable of both pursuing success and taking credit for it when they get it.
"She had the good fortune to land in the right place where her talents could really be applauded," David Kilpatrick, author of The Facebook Effect, told Bloomberg. "She went to Google, moved on to go to Facebook, went to write a book, and she'll know when to run for political office, and probably win that office."
Meanwhile, Facebook has continued its performance from 2013 by breaking records and inspiring increased analyst optimism. The stock has recently gotten upgrades from several analysts. The general consensus seems to be that Facebook has successfully monetized mobile, is doing a good job balancing ads so that it draws in revenue without alienating users, and shouldn't be concerned by its supposed issue with losing popularity among teenagers.
Facebook was trading down slightly to $57.29 at the time of writing on Wednesday. The world's largest social network is due to report quarterly results on Wednesday, January 29.
More From Wall St. Cheat Sheet:
Follow Jacqueline on Twitter @Jacqui_WSCS