Facebook Finally Gets This Break
Facebook's (NASDAQ:FB) initial public offering has received plenty of criticism, but it looks like the social network will not have to fight any more legal battles related to it, at least for now.
United States District Judge Robert Sweet in Manhattan threw out four class-action lawsuits on Wednesday that were filed against chief executive Mark Zuckerberg and other Facebook executives. The judge concluded that the individual shareholders who brought the cases could not "establish standing to sue" because they had not yet invested in the company at the time the alleged wrongdoing took place, Reuters said.
These cases in particular — consolidated by Sweet from more than 53 different lawsuits — highlighted the problems that tarnished one of the most highly anticipated stock market debuts in recent times, a memory that Facebook would rather not have resurrected.
But more importantly, Sweet's dismissal was based on a technicality, leaving room for other cases to make the same accusations. And there are other lawsuits waiting in the wings, filed by various plaintiffs over Facebook's $16-billion IPO last May. If any of the other claimants were actually shareholders at the time the company went public, the next round of legal wrangling may proceed differently…
Plaintiffs have argued that Zuckerberg and the IPO's underwriters concealed from investors "a severe and pronounced reduction" in the company's revenue growth forecasts. These accusations began just days after the company went public on May 18.
The legal cases began rolling in on May 23, when Facebook and Morgan Stanley (NYSE:MS) were sued by shareholders for not disclosing how deeply the company's future earnings could be hurt by users shifting en masse to its mobile platform.
By this time, the social network's stock price had already begun plummeting from its IPO price of $38 per share, a tumble that only hit bottom in early September at approximately half of the offering price. Months have passed, and shares have still not surpassed their debut price…
Even the U.S. Securities and Exchange Commission got involved. One day before the Morgan Stanley suit was launched, SEC chairman Mary Schapiro began investigating allegations that analysts cut their earnings estimates ahead of the IPO and only shared that information with select clients rather than the general public.
However, as of last October, the regulatory agency had found no evidence that Facebook withheld material information from investors, although the probe has not ended.
Facebook itself has made a similar argument. On May 9, 2012, it filed an amendment to its S-1 with the SEC in which the company's need to improve mobile monetization was noted, making its financial problems public knowledge. At that time, Facebook's advertising growth had just begun to fall behind its user growth.
The NASDAQ OMX Group (NASDAQ:NDAQ) has also been dragged into the Facebook-IPO fray. Various investors have filed lawsuits alleging that the exchange did not properly execute orders to buy and sell Facebook shares on the first day of trading.
Sweet also ruled that the proposed class action against the company stay in his court even though the plaintiff wanted the case to be tried in the New York Supreme Court, where it was initially filed.
Here's how Facebook (NASDAQ:FB) has traded over the past 5 trading sessions: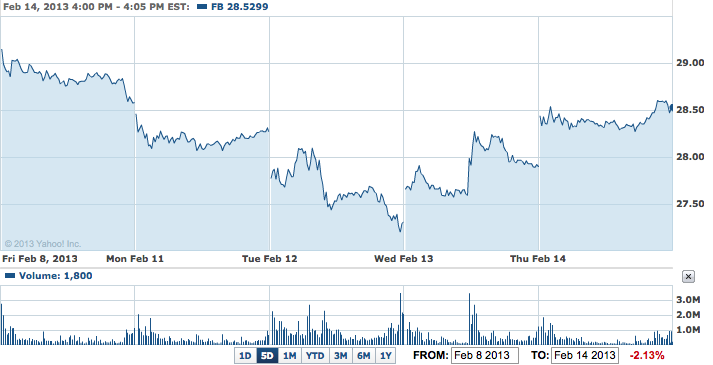 Don't Miss: Which Social Media Stocks have the Strongest Earnings Trends: Facebook, Zynga, Linkedin, Groupon or Yelp?