Facebook for the Rich: What's the Point of Netropolitan?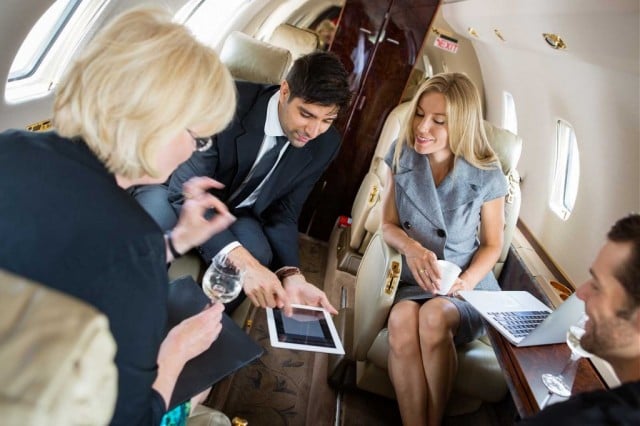 Are you looking for a social network to connect with "affluent and accomplished individuals [who] share your lifestyle and interests" and don't mind paying $9,000 for your first year of membership? If so, an exclusive new site that launched this week may be for you.
Netropolitan calls itself an "online country club for people with more money than time," and "the world's most exclusive online community." Once they've paid their fees to join, members have access to status updates and discussion rooms with all other members of the service. They can create groups and have private or public conversations "about everything from fine wines to classic cars to vacation destination recommendations," a description that seems to have inspired its headline-imposed label of a "Facebook for the rich." But the service seems to offer little in the way of technical improvements over the world's largest social network.
In fact, screenshots shared on the official website seem to show that the site's layout and functionality are pretty standard, with Activity, Discussions, Groups, Members, Events, Locations, and News available from a menu displayed at the top of every screen. From his or her own profile, each member has access to sections including activity, profile, notifications, messages, location, friends, and followers.
An update box lets members "tell the community where you are and what you're up to." Members can access the network via "polished desktop and laptop interfaces," plus "special versions" for tablets and mobile web browsers, and forthcoming apps for Android and iOS.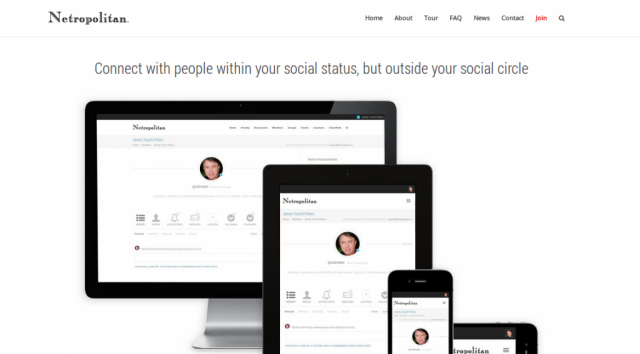 What Netropolitan lacks in technological innovation, it hopes to make up for in exclusivity. At $9,000 for the first year — a $6,000 initiation fee and a $3,000 annual membership fee — Netropolitan had reportedly attracted "several hundred members" at the time of its launch. The service is inaccessible from the "public Internet" that the rest of society inhabits, and members log in at the password-protected Netropolitan.club (though Netropolitan.info is open to curious visitors of any social standing). Members also have access to unlimited cloud storage via which they can share files — but only with other members and groups on the network.
In addition to exclusivity, a selling point of the service and its pricey membership seems to be its security — though that doesn't stop Touchi-Peters from telling the New York Post that Netropolitan "can't guarantee security — that's impossible." According to the social network's site, no advertising will be displayed, none of the service's content will be indexed by search engines, and all discussions are monitored by professional moderators. All transmissions to and from the service are encrypted, including login information, and the login page features a swipe bar for "an extra level of security from external automated attacks."
As Los Angeles Times notes, the man behind Netropolitan is James Touchi-Peters, composer, performer, and former conductor of the Minnesota Philharmonic Orchestra. Michelle Lawless of public relations firm Media Minefield told The Times:
"James and others have mentioned feeling judged for talking about certain topics on other social media outlets. Like they were bragging and met with a little ill will. Netropolitan is designed to be the place to talk about your last European vacation or new car without the backlash."
Interestingly enough, Netropolitan is hardly the first social network for the elite. New York Magazine's Kevin Roose shared a "brief history of social networks for millionaires," listing a number of startups that have launched since 2007 on roughly the same premise that Netropolitan is based. From Total Prestige to Diamond Lounge to Affluence.org, many have tried and failed to become the online destination of choice for the wealthy. So what is the point?
"The point," Touchi-Peters tells the New York Post, is to provide "a private and secure environment," one that protects members' information and doesn't inundate them with advertising. "The way I look at this," he says, "I am simply providing a service to a section of the public that demands that." With a high price tag and air of exclusivity, Netropolitan's branding seems aimed at the idea of luxury, a concept that itself is inextricably linked with ideas of status, access, and extravagance — because who wouldn't think it's even a little bit extravagant to spend $9,000 to join a social network?
Luxury — a word that calls to mind expensive cars and yachts, handbags and jewelry with astronomical price tags, and even access to events that grant passage to the social circles of the elite — was traditionally wrapped up in ideas of tradition, an expected part of upper-class life. But as the industry of luxury goods has devolved into another consumer goods sector of downward-spiraling quality pushed by operating costs, for many brands, all that's left is the idea that money will buy you access to things that the rest of society cannot afford.
If Netropolitan or any other luxury good boasted superior quality or features available nowhere else (and to be fair, everyone could appreciate a social network without advertising), the hefty price tag could be justified. Will a social network without ads, without posts by and content targeted to middle and lower class members, become central to the social life of the English-speaking elite? Only time and membership figures — which Netropolitan professes it will never disclose — will tell. But for an expensive social network that looks remarkably like the free site it hopes it will replace for its wealthy members, Netropolitan's story bears an uncanny resemblance to one tale of The Emperor's New Clothes.
More From Tech Cheat Sheet:
Want more great content like this? Sign up here to receive the best of Cheat Sheet delivered daily. No spam; just tailored content straight to your inbox.