Facebook Reigns as King of Social e-Commerce — for Now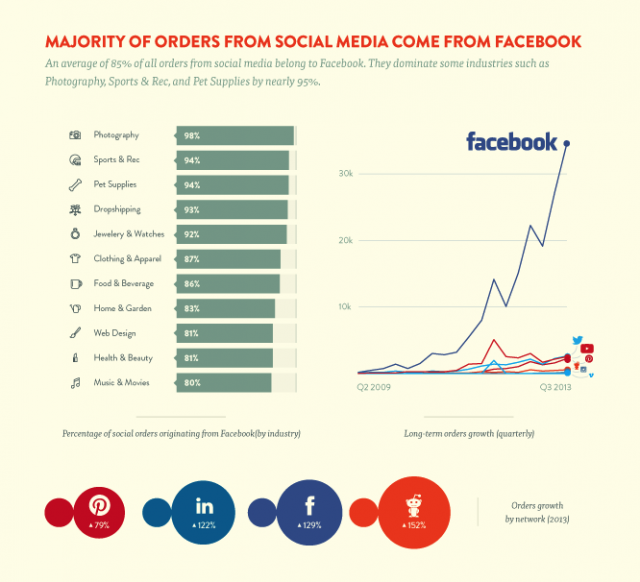 Facebook Inc. (NASDAQ:FB) drives the most purchases of any social network, according to an infographic from Shopify this spring, which analyzed data related to social e-commerce from 10 social networking sites.
The sites analyzed were Facebook, Vimeo, YouTube (NASDAQ:GOOG)(NASDAQ:GOOGL), Instagram, Google Plus, Twitter (NYSE:TWTR), Polyvore, Pinterest, LinkedIn (NASDAQ:LNKD), and Reddit. Of those, Facebook's lead is overwhelming. The site was responsible for about 63 percent of all social media-related visits to Shopify stores in 2013, comprising about 23.3 million views. TechCrunch also reports that more than 80 percent of purchases at Shopify stores came through the social network. Facebook, in other words, doesn't just bring in viewers — it's responsible for real sales, too.
Shopify analyzed 37 million different social media-driven visits to its clients' online stores and found that those visits led to 529,000 e-commerce sales for 2013. A little over a half a million sales isn't bad, but TechCrunch notes that when you take into account that Shopify's survey covered data gathered from more than 90,000 different stores — which, in total, accounted for generated $1.7 billion in sales via social media — in the scheme of things, that's a relatively small number. As it stands, it seems that most retailers just don't invest much in social media as a sales channel.
It's worth noting that while Facebook certainly is king of the mountain when it comes to social e-commerce, other social media sites, while responsible for a much smaller percentage of sales, boasted higher average orders. The fashion-oriented social media site Polyvore, for example, was responsible for the highest average order of any of the 10 social media outlets analyzed, with Instagram coming in just behind it. And Polyvore and Instagram both had higher average orders than Facebook, Pinterest, or Twitter.
Interestingly, Shopify found that Reddit was the fastest-growing source of sales orders out of the bunch, exhibiting an impressive 152 percent increase in sales volume between 2012 and 2013. However, Facebook still has room to grow, and similarly exhibited a profound increase in sales volume between 2012-2013 of 129 percent.
TechCrunch reports that utilizing social media to drive sales is still largely a new phenomenon, and marketers are just beginning to understand and develop effective ways of driving traffic to clients' stores. Likewise, it'll be important to watch sites like Polyvore, Instagram, and Reddit in the future, as much of Facebook's dominance in generating sales is likely due to the site's relative maturity in terms of marketing tools as well as its more widespread audience.
More From Wall St. Cheat Sheet: