Facebook's Android Link and 2 Other Buzzing Social Media Stocks
Pandora Media (NYSE:P): Current price $13.57
Pandora says that listener hours for the service during March reached 1.49 billion, which represents a very significant jump, versus March 2012 with a total of 1.07 billion hours. Year-over-year, March of 2013 marks a 40-percent increase. Also, the company reports that its share of total domestic radio listening for March was 8.05 percent, compared year-over-year to 5.73 percent in 2012 of the total domestic radio listening audience.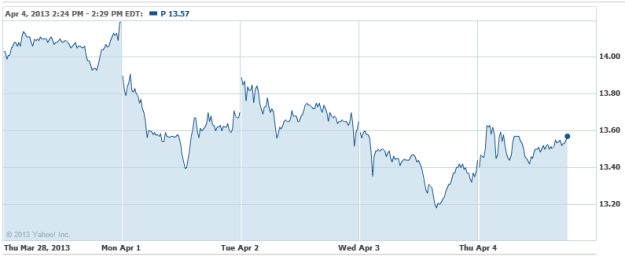 LinkedIn (NYSE:LNKD): Current price $171.58
LinkedIn has just said on its blog that a new Facebook-type mention feature, which permits users to tag companies or users, is official, according to Tech Crunch. Thursday morning, TNW noticed a feature being tried out on LinkedIn that would allow users to mention other LinkedIn members or firms in status updates, instantly sending a notification to that user or firm's profile. Not all users had access to the mention feature Thursday morning, but it seems that LinkedIn is introducing it out to users at this time.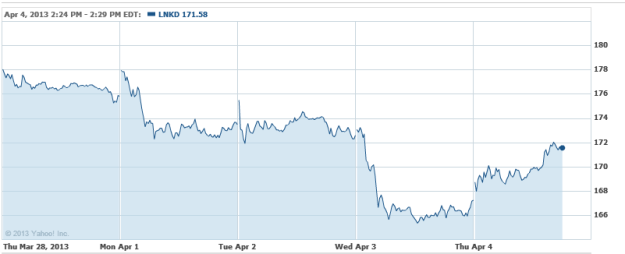 Facebook (NASDAQ:FB): Current price $27.16
Mark Zuckerberg said that his company has developed new software to highlight the social network on mobile devices run by Google's (NASDAQ:GOOG) Android operating system, commenting that "you're going to be able to turn your Android phone into a great social phone," according to The New York Times. The new interface, Facebook Home, heavily emphasizes photos, quite similarly to the recent modifications made to Facebook's news feed feature on the Web. Present users of Android phones will be permitted to download the new software via the Play Store, which is Google's application marketplace, from April 12. AT&T (NYSE:T) will be the first domestic carrier to offer it, also on April 12.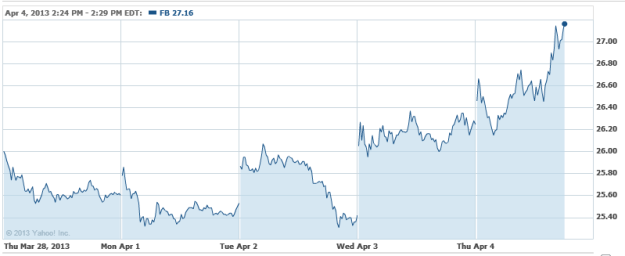 Don't Miss: Analyst: This House of Cards Omission Will Cost Netflix.