Facebook's Focus Turns to Users and Mobile Before Earnings
Shares of Facebook (NASDAQ:FB) closed out the trading week at $31.54. The stock, up 18.48 percent since the beginning of the year, is showing its sensitivity to catalysts ahead of its earnings release on January 30.
Last week, Facebook rolled out the beta form of a social search service called Graph Search, generating a flurry of activity but ultimately pulling the stock down. For investors, Graph Search is a long-term revenue stream but it won't come online for a few years. At the launch, CEO Mark Zuckerberg indicated that there were no monetization schemes in place yet, and that the entire service would take years to flesh out.
Start 2013 better than ever by saving time and making money with your Limited Time Offer for our highly-acclaimed Stock Picker Newsletter. Click here for our fresh Feature Stock Pick now!
Down the road, Graph Search looks like a competitive threat to Yelp (NYSE:YELP), given their overlap as recommendation engines. Currently, both services attempt to answer similar types of questions for users, such as where to eat, or who likes what. Both services are only as valuable as the content their users provide. If the experience is comparable, it seems likely that most people will pick Facebook when given a choice — after all, Americans overwhelmingly spend more time on Facebook already than any other site.
It's also easy to imagine how Facebook might pursue monetizing the service after it rolls out to a larger audience. Advertisers will line up at the door in the future, but Graph Search fails to address some issues currently facing the company, such as a drop in active users and a unfavorable mobile trends…
Mobile accounts for 55 percent of all Facebook use and is growing in popularity. That means Facebook's mobile engagement strategy is working. A mobile user is generally an active user, but advertisers are not as attracted to mobile display space — not yet, anyway. The way they see it, limited screen real estate makes it difficult to advertise effectively, so new strategies will have to be examined and employed for mobile to become as valuable a platform for them.
Programs like Open Graph are working to solve that problem, and Open Graph successes have the very real ability to immediately increase Facebook's advertising revenue. Open Graph promises to be more user-friendly, produce more relevant ads, and produce larger display ads without violating the user experience. All of these mean either more active users or high yields from advertisements.
Google (NASDAQ:GOOG) is trying to answer these very same questions, and each company would like the first-mover advantage. Digital ad spending is projected to do nothing but grow at double-digit rates for years, already claiming one in five total ad dollars spent.
The number of active users Facebook has is also being closely watched right now. SocialBakers.com reports that active users dropped sharply at the end of December, and are still below a mid-December peak. This is the first real peak in active users, which has raised a lot of red flags for some observers. Sputtering active user growth is always the first time of weakness in a social network. Granted, Facebook is unique in scale, but reminders of social failures are everywhere.
But analysts are still bullish on the stock. Many institutional investors who bought in at the IPO have held onto their positions. The stock is just 17 percent off its IPO price and many see a break-even for initial investors happening at some point in the future. Facebook's recent successes with its mobile strategy have helped scare away the bears.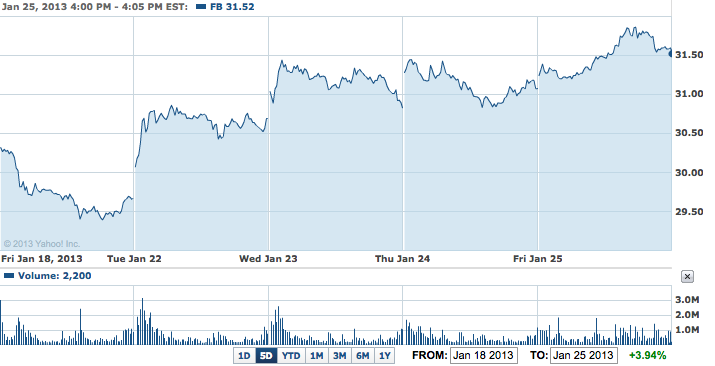 Investing Insights: Is LinkedIn's Stock a Buy Now?