Facebook's 'Rooms' and Ello Let Us Choose Our Own Identities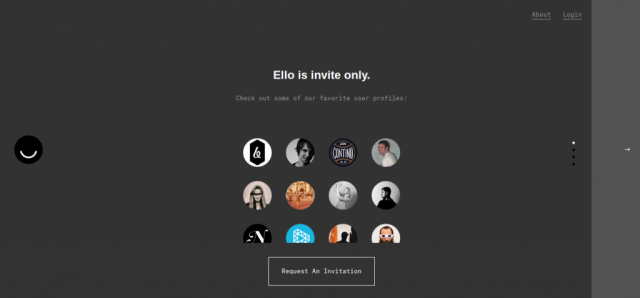 If recent headlines are any indication, social networks are changing. Startup Ello legally committed to its ad-free charter, and Facebook introduced a new app, the pseudonymous "Rooms," which enables users to create their own communities around the topics they care about. Both highlight changing attitudes toward our online identities as as pseudonymous becomes the new anonymous.
The New York Times reported that Ello has reincorporated as a public benefit corporation to keep its young social network free of ads. Its charter will prevent it from selling ads or user data, and Paul Budnitz, Ello's co-founder and chief executive, told the Times: "It basically means no investor can force us to take a really good financial deal if it forces us to take advertising. It points us in the right direction, and it protects us." Ello has raised $5.5 million in financing from the Foundry Group, Bullet Time Ventures, and FreshTracks Capital.
The Times reports that Ello, with its design-minded layout and user base of designers and artists, isn't angling for "world domination," which seems to be a goal of social networking giant Facebook. It isn't clear if Ello's new legal charter — which prohibits not only the sale of ads and user data, but also specifies that any future buyer of the social network must also adhere to those rules — will limit its growth.
And while Budnitz cites Patagonia and Ben & Jerry's as role models — two companies that are successfully using their status as public benefit corporations "to do good in the world" — Ello has also made it clear that it still aims to be profitable while providing an ad-free social network to the world.
Budnitz compared Ello's future revenue model to that of Apple's App Store: Users of the platform will eventually be able to purchase widgets and modifications, each time paying just a few dollars. (In Apple's latest quarter, iTunes had its best three months ever, bringing in $4.6 billion in revenue, but it was still a fraction of Apple's $42.1 billion in revenue, which is, of course, primarily driven by sales of devices on which people can then access iTunes and the App Store to buy apps and media. Ello does not charge a fee to use or become a member of its social network.)
Ello's idea is to enable users to customize their own experience with the social network, a move away from the one-size-fits-all mentality of networks like Facebook. Ello has grown from 90 users in August to more than a million now, with a waiting list of 3 million. Because of that growth, Budnitz realized that it would be necessary to raise some funding to ensure that the site didn't go down and to fund future growth. He turned to investors whom he trusted to back Ello's mission.
In other social networking news this week, Facebook unveiled a new app, called Rooms, that enables users to create discussion boards on any topic and invite others to join either publicly or via a private invitation. The New York Times reports that, as was reported before the app was released, Rooms enables users to sign in with pseudonyms and use different usernames from room to room. In fact, the app requires nothing more than a username to set up, though of course, it recommends more for security.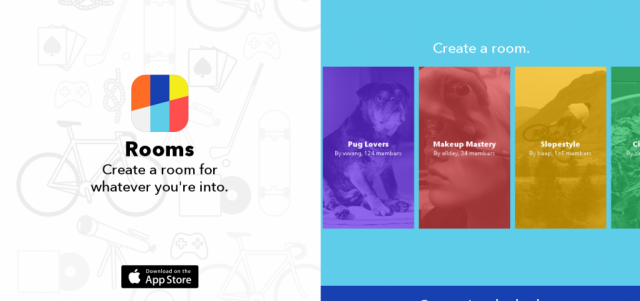 TechCrunch's Josh Constine reports that users can create rooms around any topic, and members share via an Instagram-style feed of text, photo, and video posts, plus the accompanying comment threads. Rooms assigns each phone or tablet a random number, and the name that a user picks for that specific room is associated with the number.
The app requests an email address so that, in the event a user wants to delete the app or sign in from a different device, it can send a onetime verification code for the user to gain access to all of his or her usernames and rooms. Rooms can be customized, and creators can set rules for the moderation of posts or whether the room will appear among results when other users search for the topic.
As many have pointed out, Rooms is reminiscent of the early days of the Internet, when people used pseudonyms to post to digital bulletin boards and chat rooms of various kinds. But unlike the text-oriented bulletin boards of the early Internet days, Rooms is aimed at what the Times calls "the Instagram generation." Rooms is accessible only via a mobile app, which is currently available only for iOS, and enables users to post photos and videos, placing captions beneath them.
Josh Miller, who was the chief executive of Branch Media, a startup that Facebook acquired earlier this year, now leads the team that created Rooms. He told The New York Times that Rooms is aimed less at giving people another way to connect with their friends and more toward enabling them to find others who are interested in the same, sometimes obscure, topics.
Miller told the publication: "We don't want this to be a place where you talk to friends. There are many people out there that you didn't go to high school with that you want to connect with." Rooms doesn't even enable users to import friends lists from Facebook.
Rooms is a noticeable deviation from the norm for Facebook, which has been enforcing a strict and controversial "real-name policy" that prohibits its users from using pseudonyms on its network. Recent enforcement of that policy — and the backlash that ensued from members of the LGBTQ community, and even among those with ethnic names that Facebook did not recognize as "real" — was well-timed for Ello. Facebook users shared news of and invitations to the upstart social network on Facebook, and Ello saw something of a mass migration from Facebook users dissatisfied with the social media giant's policies.
The New York Times reports that with Rooms, like with other projects conceived in Facebook's Creative Labs division, there is no concrete plan to make money from the app. Miller said that Facebook could sell optional premium features — recalling Budnitz's strategy for Ello — that users could purchase to upgrade individual rooms, much like WordPress offers features for users to upgrade their blogs. He also said that if Facebook does incorporate advertising into Rooms or adds some other revenue generator, he would like to share that revenue with room creators, as Google does with YouTube creators.
When TechCrunch's Constine spoke with Miller, the product manager said that Rooms brings some of the customization that was characteristic of the websites of the early Internet to mobile. Users can create their own unique spaces, distinct from one another in the way they look, how people interact within them, and what topics they discuss.
Miller discussed how users' desire for anonymity or pseudonymity varies. With regards to the early Internet and the array of usernames and ways that people used to represent themselves before social networks provided a universal login that tied all of your pseudonyms, usernames, and activity to your real identity, Miller said:
"I think the thing I loved was the flexibility to show the side of myself that I wanted to show depending on where I was and who I was talking to. But then also just the creative expression. I think that a big part of Rooms and what we're trying to bring back is that you can be creative and fun. It should be fun. You should be able to be creative and express what you want depending on where you are. So I think that one element that's typically lost in a lot of these discussions about identity things, was fun. Like AIM was fun, thinking up screen names was fun, having an away message was fun."
Miller told TechCrunch that what's different about the way Rooms treats pseudonymity is that it doesn't try to combine the concept with "the newer parts of the Internet." Instead of tying users' identities to their social graph or their address book, Rooms is akin to the way that early bulletin boards and forums enabled users to create "islands" of people and topics that weren't connected to one another or to any overarching identity.
Rooms doesn't enable anonymity because it focuses on the idea of creating communities, something that would be virtually impossible to do without some sort of recurring identity.
Both Rooms and Ello illustrate that users want to be able to control how they represent themselves online. On Ello, some users choose to use their legal names, while others choose to use pseudonyms. The point: They get to choose. While Ello positions itself as the philosophical opposite of Facebook, with its data mining and major advertising business, they're both building new platforms based on the concept that users want to choose how they represent themselves in the communities that they join and create online.
Ultimately, Miller believes that the best social network is not only one where users can create their own identities, but one where they can create the network — the community, its rules, its design, and its members, and its focus. Miller said in his interview with TechCrunch:
"We have the approach of a platform — a WordPress rather than a social network — which I think is something that was defining in the early Web. We build tools to let other people make things, not we make the thing for the people. I think the biggest difference between Rooms and Facebook is — bigger than identity, bigger than anything else — is the fact that we didn't build the social network, we built tools for you to make the social network that's perfect for you."
More from Tech Cheat Sheet:
Want more great content like this? Sign up here to receive the best of Cheat Sheet delivered daily. No spam; just tailored content straight to your inbox.