'Far Cry 4′ Review: A Bloody Good Time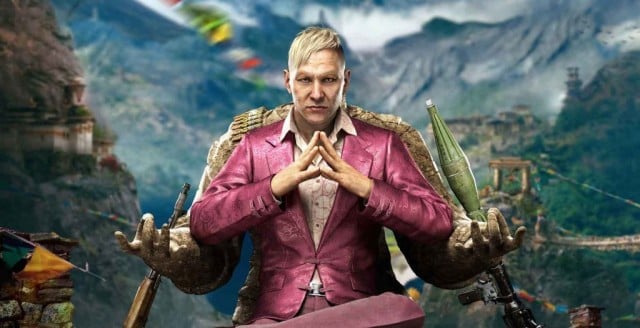 Far Cry 4 is an open-world shooter that just wants you to have a good time. It invites you to kick back, forget about whatever bogs you down in real life, and lose yourself in the fictional country of Kyrat. That might seem odd considering Kyrat is a war-torn place, home to a tyrannical dictator and a spirited rebellion. You'll join that rebellion, and you'll spill buckets of enemy blood all over the gorgeous environments. But like Pagan Min, the game's delightfully wicked villain, you'll have a grand old time doing it.
Kyrat is a fictional Himalayan country that sprawls out lavishly in all directions, from snowy peaks to stream-lined valleys. You play as Ajay Ghale, a man who was born in Kyrat but grew up in America, only to return to scatter his mother's ashes. Upon arriving, you learn that your family has a deep history with Pagan Min as well as the rebellion, known as the Golden Path. And so you join up, completing missions for the Golden Path and learning about your people.
But this is an open-world game, so you're free to ignore the story and focus on any of the dozens of activities available in the game world if you'd prefer. It's your life, and you can live it however you want.
In an interview, the developers told me they spent about half their energy on the game's story, and half on the open-world environment. In both cases, it shows. The story has been crafted to apply to all kinds of players, whether they want to stick to the main missions as much as possible, or wander off for hours, hunting and collecting items between missions.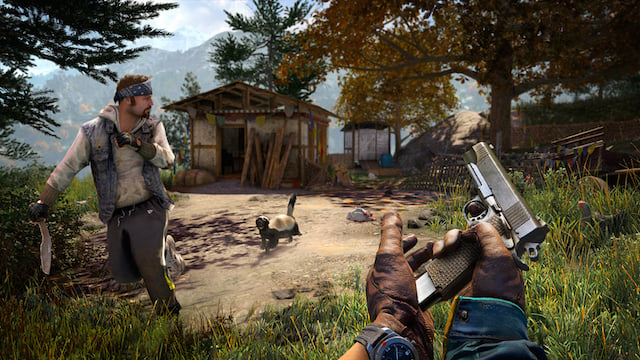 The game world is full of craggy mountains, restful villages, lush forests, and placid ponds. It's populated with wildlife ranging from honey badgers and pigs to elephants and rhinos. Numerous modes of transportation are scattered around for your convenience, like cars, motor boats, ATVs, and gyro copters, and you can hot-wire any of them in the blink of an eye. The world is your playground, and from the moment you're set free, you can go anywhere and do just about anything.
If there's one part of Far Cry 4 that didn't grab me, it's the story — but that's partly by design. The story in an open-world game can't have a whole lot of narrative propulsion if it wants to seem plausible when players go off to wander around for hours on end. If you're hoping to be whisked from one story beat to the next, you'd be better off finding another game.
What the story missions do, however — and do well — is to send you all around the game's map so you can see what Kyrat has to offer. And Kyrat has a lot to offer. The game world is enormous, so it's quite a feat that it's packed full of things to do and places to explore. At any given time, you can hunt wildlife, collect items, take on missions, attack enemy outposts, or climb towers to fill out your map. And that's just scratching the surface.
As you progress, you can expand your gear and abilities in a number of helpful ways. You can learn new moves like silent takedown combos, and gain new abilities, like riding elephants. (Elephants may be herbivores, but they're like walking battle tanks in a skirmish.) You also unlock heaps of weapons, which can be upgraded with scopes and silencers to adapt to your play style.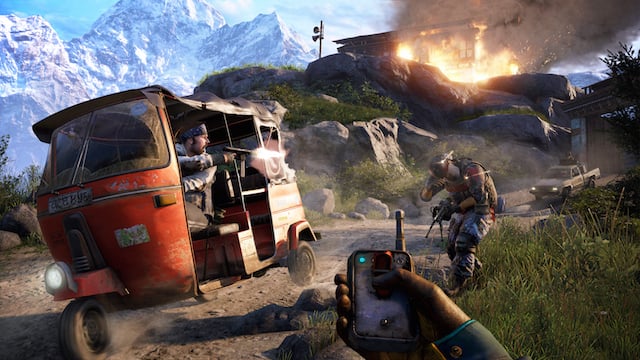 The missions are also nicely varied, and do a good job of illustrating different ways to approach challenges. One mission puts you in an arena with nothing but a knife, and sends waves of enemies at you. You'll quickly realize you're dead meat unless you pick up a weapon and start shooting (pro tip: Always aim for the head). Another mission has you sneak into a compound to rescue hostages. The twist here is that if you're seen by an enemy, you fail the mission and have to start at the last checkpoint you reached.
These two approaches — guns-blazing and strategic stealth — are both equally valid ways to clear outposts, something you'll do often in the game. If you're creative, you can come up with any number of ways to get the job done. Want to send in a tiger to fight the enemies for you? Throw a hunk of meat next to the enemies. Don't feel like fighting reinforcements? Disable the alarms before before opening fire. Want to barge into town on a charging elephant? Have at it. You can even invite another player into your game to help you clear outposts, or enlist a computer-controlled ally. Never before have there been more ways to get the job done in a Far Cry game, and it's great fun to try new approaches.
As much fun as I had with Far Cry 4, one aspect left me feeling a little, well, exhausted. The game offers a litany of optional things to do: Go on hunting excursions, remove propaganda posters, find journal entries, locate Mani wheels, compete in arena challenges, make supply runs, hijack cargo trucks, stop attempted kidnappings, ward off attacks on friendly outposts, assassinate key militants, destroy convoys, and deal with animal attacks — all of which is great. The problem is that these things pop up all the time.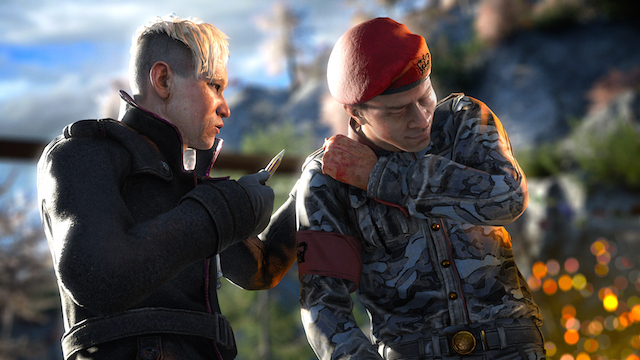 Icons showing hidden items clutter your map. Side missions appear onscreen constantly, interrupting whatever you happen to be doing. You can ignore these distractions, but I often felt scolded for going about my business. Imagine someone repeatedly poking you, asking if you're having fun yet. It's like, "I would be if you'd quit bothering me." Even still, this is a fairly minor complaint.
The developers have added a number of new features — including a terrific grappling mechanic — but this is a Far Cry game through and through. If you played the third installment, you'll fall right back into the rhythm of the game — something like, do a story mission, clear an outpost, climb a tower, upgrade your stuff, lather, rinse, repeat. The thing is, each part offers its own kind of fun, and — impressively — each part affects and rewards you in the other parts. That kind of harmony is rare. The game is a finely tuned machine created to keep you coming back gleefully for more.
Far Cry 4 is a masterfully designed game that brings new ideas to the table, and delivers exactly what it sets out to deliver: An experience that's satisfying no matter how you choose to play it. From the beauty of Kyrat to the interlocking mechanics, this game shines on just about every level (minor gripes aside). If you want a game you can play for 15 hours or 80 hours, in whatever way you want, Far Cry 4 fits the bill nicely.
Follow Chris on Twitter @_chrislreed
More from Tech Cheat Sheet:
Want more great content like this? Sign up here to receive the best of Cheat Sheet delivered daily. No spam; just tailored content straight to your inbox.