Finally, Apple Gets Pentagon Approval
After being beaten in the race to get Pentagon approval by rivals BlackBerry (NASDAQ:BBRY) and Samsung (SSNLF.PK); Apple (NASDAQ:AAPL) has finally received its Department of Defense security approval. The recent approval covers all of Apple's iOS 6-powered devices.
Earlier this month, BlackBerry won security approval for its BlackBerry 10 operating system, and Samsung won approval of its Android Knox-based mobile devices. Although Samsung's standard devices do not meet the military's security specifications, the South Korea-based smartphone maker was allowed to beef up its security with Knox Security software.
In March, Electronista reported that the Department of Defense had plans to purchase 650,000 iOS devices, including 120,000 iPads, 100,000 iPad minis, 200,000 iPod touches, and 210,000 various iPhone models. Although an official DoD spokesperson later denied the story, The Inquisitr has recently reported on the same order since Apple gained its current security clearance. However, it is unclear if this recent report is based on new information.
What is clear is that the Pentagon is making a sustained effort to diversify its mobile device purchases. Via PCMag, Lt. Col. Damien Pickart revealed how many different types of mobile devices the Pentagon currently uses. The Pentagon supports over 600,000 commercial devices, including 470,000 BlackBerry devices, 41,000 iOS devices, and 8,700 devices that use Google's (NASDAQ:GOOG) Android platform.
Although the Pentagon has approximately 3 million employees in total, it is unlikely that it would ever purchase that many smart mobile devices. However, there are also many support personnel that will likely need to purchase a smartphone with the appropriate level of security.
Despite the small size of the overall Department of Defense market, it is still a prestigious market for smartphone manufacturers to be associated with. Many consumers place a high value on the Pentagon's security designation. Hopefully, Apple's new Pentagon security designation will help it to establish a greater presence in this important niche market.
Apple shares closed down 0.83 percent, or $3.80, at $452.97 on Friday. Here's how Apple and BlackBerry have traded over the past week.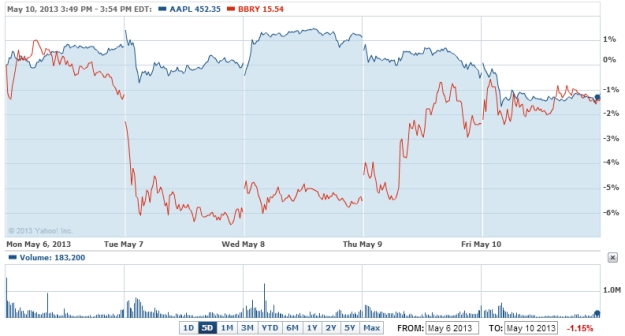 Don't Miss: Will the Pentagon be Apple's Next Battleground?