Firm: PC Sales Will Fall the Most Ever in 2013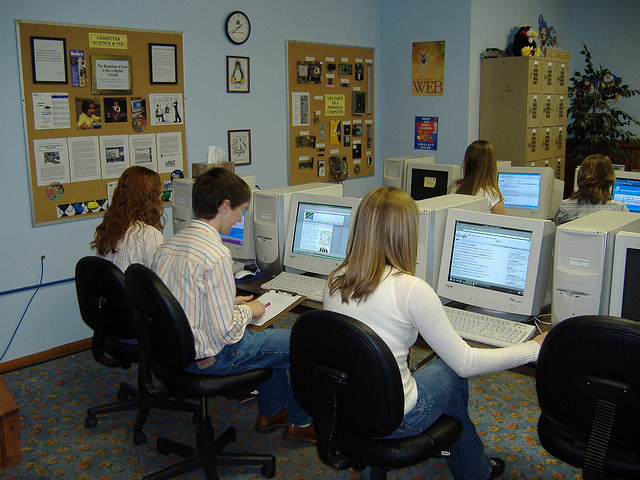 Research firm International Data Corp. has lowered its forecast for how much personal computer shipments will drop during 2013 even further, revising the number from a loss of 9.7 percent to a loss of 10.1 percent. If the firm's predictions for its Worldwide Quarterly PC Tracker are correct, 2013 will represent the biggest fall in PC sales ever.
The firm also adjusted its predictions for the coming years, saying that PC sales will fall at a much smaller rate of 3.8 percent during 2014 and then rebound to a slight positive by 2015.
The firm forecasts that PC sales will level out at around 300 million units sold per year, which is only slightly above the figures seen in 2008, as consumers increasingly turn to mobile devices for their computing needs and the tablet market eats away at the market for desktop and laptop computers.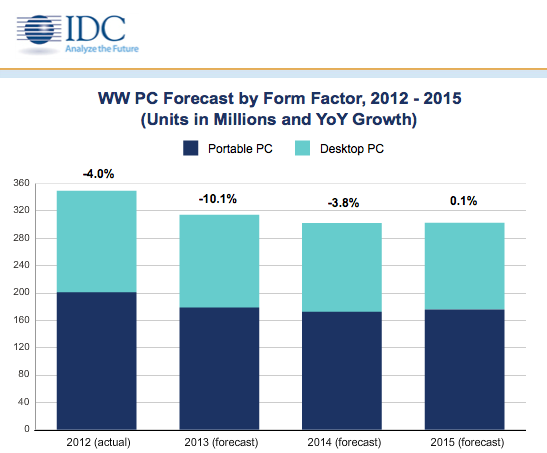 "Perhaps the chief concern for future PC demand is a lack of reasons to replace an older system," said Jay Chou, a senior research analyst at IDC. "While IDC research finds that the PC still remains the primary computing device — for example, PCs are used more hours per day than tablets or phones — PC usage is nonetheless declining each year as more devices become available. And despite industry efforts, PC usage has not moved significantly beyond consumption and productivity tasks to differentiate PCs from other devices. As a result, PC lifespans continue to increase, thereby limiting market growth."
IDC said that tablets running on Microsoft's (NASDAQ:MSFT) Windows will contribute greatly to the increase in tablets and the fall of PCs, which is good news for a company that thus far has struggled to enter the mobile computing arena. According to IDC's tablet research, sales of tablets running on Windows will grow to 39.3 million in 2017, up from less than 7.5 million this year. By 2016, Microsoft's tablets are expected to make up 10 percent of the tablet market as a whole.
Recent research from Canalys forecast that tablets will make up more than half of all the computers shipped in 2014, outselling PCs for the first time. Canalys also predicted growth for Microsoft's tablets. It's not exactly news that the rising popularity of tablets has caused sales of laptops and desktops to fall, but IDC's findings suggest that after this year, the PC market may begin to stabilize.
Follow Jacqueline on Twitter @Jacqui_WSCS
Investing Insights: Can Google Move Higher?