Firm Says It Is 'Suicidal' to Bet Against BlackBerry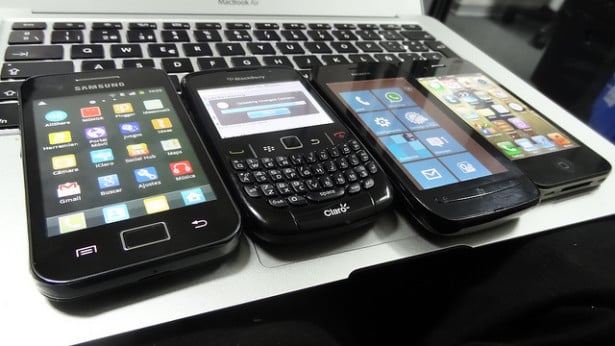 BlackBerry (NASDAQ:BBRY) stock is up during trading on Tuesday after the U.S. Defense Department announced last week that it will continue to primarily use BlackBerry devices on its new network, proving that while BlackBerry's phones have failed to remain popular among consumers, the company is still the leader in military contracts and enterprise services.
The Defense Information Systems Agency (or, DISA) said that the program will include 80,000 BlackBerry devices and 16 mobile apps to start. A secure network will make it easier for military personnel to work on unclassified documents from their mobile devices. Only 1,800 devices running on Apple's (NASDAQ:AAPL) iOS and Google's (NASDAQ:GOOG) Android platforms will be included in the program.
One analyst cited by Bloomberg said that BlackBerry can more easily meet the tough security specifications required by the Defense Department and other government agencies than its competitors. "It's a challenging specification, and other vendors are having a tough time meeting it," said Doug Pollitt, a broker at Toronto-based Pollitt & Co, to Bloomberg. "BlackBerry has already got it."
This is some of the first evidence showing that new CEO John Chen's turnaround plan for BlackBerry may be beginning to work. In an article written for CNBC at the end of December, Chen said that enterprise services would be the company's main focus moving forward, and told BlackBerry's enterprise customers to ignore the bad press surrounding the company. "When it comes to enterprise, we're still the leader. Don't be fooled by the competition's rhetoric claiming to be more secure or having more experience than BlackBerry," Chen said.
A favorable report from Citron Research, which called for a $15 minimum on BlackBerry's stock, also helped drive the gains made on Tuesday. Citron said that investors should no longer look at BlackBerry as a device maker, but as a provider of enterprise services. The firm said that it is completely confident in Chen's ability to turn BlackBerry around by giving up on trying to win back the consumer smartphone market. "It is Citron's opinion that it is suicidal to bet against well-capitalized strong management in the enterprise mobile space," the firm said. BlackBerry stock was up almost 10 percent to $9.96 at the time of writing on Tuesday afternoon.
More From Wall St. Cheat Sheet:
Follow Jacqueline on Twitter @Jacqui_WSCS