First-Quarter PC Sales Decline Less Severe Than Expected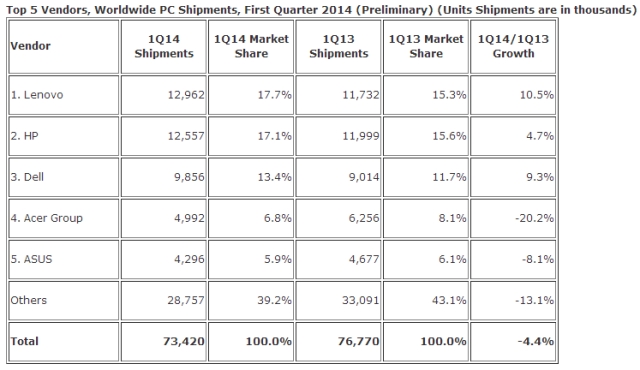 First-quarter PC shipment numbers recently released by two major market research firms revealed that the global PC market continued its steady decline with the eighth consecutive quarter of falling shipments. Although the data confirmed a continuing weakness in the PC market, the decline was less severe than what had been anticipated.
According to market research firm IDC's data, global PC shipments totaled 73.4 million units in the first quarter of 2014, a decline of 4.4 percent compared to the year-ago quarter. Meanwhile, Gartner estimated first-quarter shipments of 76.6 million units for a decline of 1.7 percent. Both research firms attributed the decline in PC shipments to the continuing consumer shift to mobile computer devices, although IDC also cited unfavorable economic factors.
"Worldwide PC shipments have now declined for eight consecutive quarters as a result of shifting technology usage and competition (notably with tablets & smartphones) as well as economic pressures (including high unemployment, slow growth & investment, tight credit, and currency fluctuations) related to the Great Recession, sovereign debt crises, and their related impact on international trade," wrote IDC's Loren Loverde. "The net result remains consistent with our past forecasts — in particular, that there is potential for PC shipments to stabilize, but not much opportunity for growth."
On the other hand, Gartner noted that the end of Microsoft's (NASDAQ:MSFT) support for Windows XP likely helped mitigate the impact of the overall decline in PC shipments last quarter. "All regions indicated a positive effect since the end of XP support stimulated the PC refresh of XP systems," wrote Gartner principal analyst Mikako Kitagawa. "We expect the impact of XP migration worldwide to continue throughout 2014."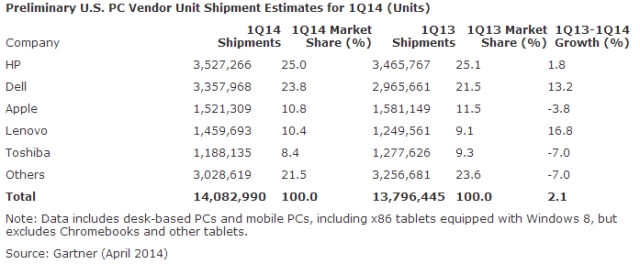 Although IDC and Gartner showed some slight variation in their estimated PC shipment numbers for each vendor, both firms ranked the top-five worldwide PC vendors in the same order. IDC and Gartner both ranked Lenovo as the No. 1 PC vendor in the world with a 17.7 percent and 16.9 percent share, respectively. Hewlett-Packard Company (NYSE:HPQ) was a close second with 17.1 percent share according to IDC, or a 16 percent share according to Gartner. Dell took third place, followed by Acer Group, Asus, and "others."
While Lenovo continued its domination of the worldwide PC market, Hewlett-Packard preserved its lead in the U.S. market with a 25.6 percent share according to IDC, or a 25 percent share according to Gartner. Both firms also ranked fast-growing Dell as the second largest PC vendor in the U.S. market. However, while IDC ranked  Apple (NASDAQ:AAPL) as fourth after Lenovo in the U.S. market with a 10.3 percent share, Gartner ranked the Cupertino-based company as third with a 10.8 percent share. Toshiba ranked fifth according to both research firms' data.
Gartner's Kitagawa noted that the U.S. PC market may provide a glimpse of what is in store for the worldwide PC market. "In terms of the major structural shift of the PC market, the U.S. market is ahead of other regions," observed Kitagawa. "The U.S. PC market has been highly saturated with devices: 99 percent of households own at least one or more desktops or laptops, and more than half of them own both. While tablet penetration is expected to reach 50 percent in 2014, some consumer spending could return to PCs."
More From Wall St. Cheat Sheet:
Follow Nathanael on Twitter (@ArnoldEtan_WSCS)