For Intel, Surface Pro 3 Was Another Miss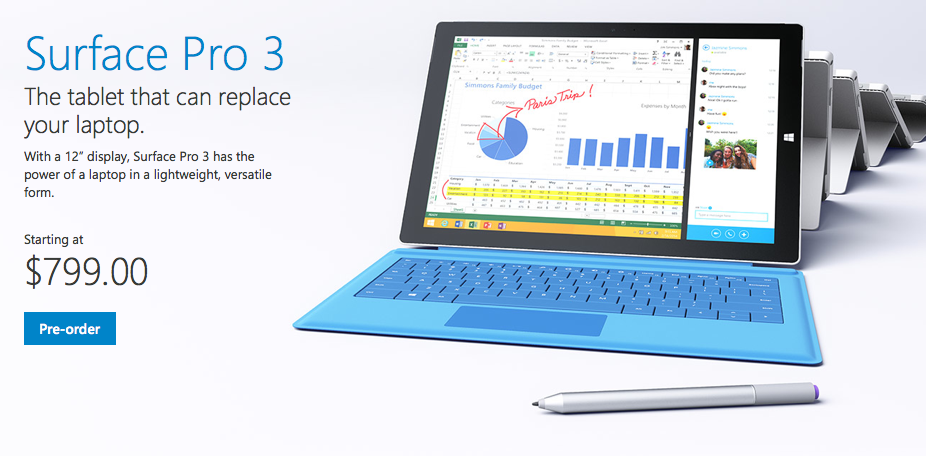 On October 26, 1999, Microsoft (NASDAQ:MSFT) and Intel (NASDAQ:INTC) were added to the Dow Jones Industrial Average as component stocks. In retrospect, however, the October 26 date may have marked the apex of the PC revolution and Wintel (Windows + Intel) partnership. Intel shares closed out the October 26 trading session at a split adjusted $26.79. Nearly fifteen years later, on June 6, 2014, Intel stock changed hands at $28.17 per share. Both Intel and Microsoft have remained largely shut out of the secular shift in consumption out of the PC and towards mobile computing. For Intel, the Microsoft Surface Pro 3 will prove to be too little, too late for the chipmaker to finally compete against the likes of Qualcomm (NASDAQ:QCOM) and ARM Holdings (NASDAQ:ARMH) in the mobile chip market.
Microsoft Surface Pro 3 Competition
Microsoft Surface Pro 3 machines are now available for pre-order. Surface Pro 3 orders will be shipped out by August 31, 2014 at the latest. Microsoft has aggressively promoted the Surface Pro 3 as "the tablet that can replace your laptop." Surface Pro 3 prices range between $799.00 and $1,949.00. Be advised that Surface keyboard covers are sold separately for $129.99. At this price point, the Surface Pro 3 would compete directly against the Apple (NASDAQ:AAPL) MacBook Pro.
Intel Core i3, i5, and i7 chips power the Microsoft Surface Pro 3. Interestingly, Intel Core i3, i5, and i7 CPUs are also the engines driving the MacBook Pro laptop computers. At best, Microsoft Surface Pro 3 sales may simply cannibalize MacBook Pro sales, which would cancel out the prospects for real growth at the Intel bottom line. In Q4 2013, Microsoft did take a $900 million charge to write down Surface RT inventory. Going forward, Microsoft may curtail Intel chip orders and limit Surface Pro 3 production in order to avoid another embarrassing write off.
Interestingly, the Surface Pro 3 marketing apparatchik has all but failed to acknowledge the Apple iPad. A May 1, 2014 report out of research firm International Data Corporation identified Apple as the top tablet vendor on the market after it shipped out 16.4 million iPad units through calendar Q1 2014. For the sake of comparison, fifth-ranked Amazon shipped 1 million tablet units during Q1 2014. Microsoft, for its efforts, failed to crack the top five list.
The A7 chip now functions as the nerve center for the iPad Air and iPad Mini. Apple designs its own A-Series chips, according to ARM architecture. Alternatively, the Qualcomm Snapdragon system that powers popular Android tablets is also based upon ARM architecture. For Intel, the Surface Pro 3 event will do nothing to change the dynamics of the mobile market. Intel will remain all but shut out of mobile.
The Bottom Line
Prior to 2014, Intel classified its businesses according to PC Client, Data Center, Other Intel Architecture, and Software and Services operating segments. The Other Intel Architecture operating segment covered phone, tablet, and netbook chip sales. On average, the PC Client Group generated 64.7 percent of annual sales at Intel over the past three years. Alternatively, Other Intel Architecture racked up $2.4 billion in 2013 losses upon a mere $4.1 billion in segment revenue. Again, these poor results may confirm the idea that Intel has remained shut out of the mobile market.
Earlier this year, Intel broke out the old Other Intel Architecture operating segment into distinct units. For 2014, Intel's new operating segments were to include the Internet of Things and Mobile Communications Group. Interestingly, netbook chip sales were then included within the All Other miscellaneous group, while "2-in-1" microprocessor sales were made a part of the PC Client Group. Intel would define the Surface Pro 3 as a "2-in-1" machine that incorporates traditional tablet and laptop elements within the user experience. Going forward, strong results out of the PC Client Group will mask a weak reception towards the Surface Pro 3.
For Q1 2014, the PC Client Group did generate $2.8 billion in operating profits off $7.9 billion in revenue. Meanwhile, the new Mobile and Communications group deteriorated further to rack up $929 million in losses upon a mere $156 million in revenue. Despite the new classifications, intelligent analysis would expose the fact that Intel continues to lose the mobile chip game. Most likely, the Surface Pro 3 launch will continue Intel's ongoing failures to capture real growth outside personal computers. According to Garnter, global personal computer shipments have declined for seven straight quarters. As such, investors should consider avoiding Intel stock.
More From Wall St. Cheat Sheet: