GameStop Falls Victim to the Grinch
GameStop (NYSE:GME), the world's largest video-game retailer, is delivering a lump of coal to investors for the holiday season.
What Happened?
The Grinch came to visit GameStop. On Tuesday, the company reported holiday sales results for the nine-week period ending December 29, 2012. Total global sales came in at $2.88 billion, representing a 4.6 percent decrease from the same period in 2011. Total comparable store sales also fell 4.4 percent, with U.S. and international comps declining 3.5 percent and 6.4 percent, respectively.
It Gets Worse
Due to the lackluster holiday season, the retailer also narrowed its comparable store sales range for the fourth quarter to a decline of 4 percent to 7 percent. For the full year, it now expects comps to drop 7.5 percent to 9 percent. GameStop previously expected a drop of 6 percent to 9 percent.
Sales in categories fell across the board. For the holiday season, new hardware sales decreased 2.7 percent, even with the new Nintendo Wii U selling 320,000 units worldwide. Video game software sales declined 5.1 percent, as new titles failed to offset foot traffic in stores. Due to fewer new titles being released in 2012, the pre-owned category of sales plunged 15.6 percent. On the positive, global e-commerce sales increased 20.5 percent from the prior year.
GameStop, which announced in November it would close 200 stores because of a "tough video game market," received another blow to its share price on the news…
Save time and make money with our LOWEST ADVERTISED PRICE EVER to help you achieve your financial goals in 2013. This is a LIMITED TIME OFFER, so get your Stock Picker Newsletter now!
Shares of the retailer posted their largest decline in more than seven months. GameStop plummeted about 8 percent in morning trading to reach as low as $22.66 a share.

GameStop rebounded to climb back above $23, but shares are still back to November trading levels. Other names in the industry also took a hit…
Video-game related names such as Activision Blizzard (NASDAQ:ATVI), Take-Two Interactive Software (NASDAQ:TTWO) and Electronic Arts (NASDAQ:EA) all declined on the news.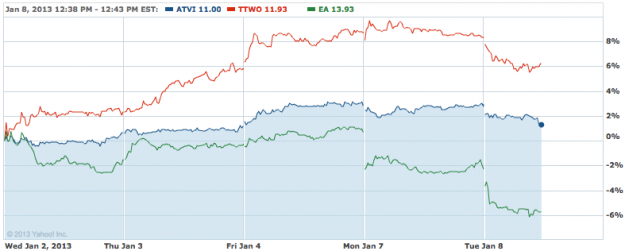 Paul Raines, GameStop CEO, tried to remain positive about the year ahead. He explains, "GameStop experienced mixed results during the holiday selling period. Our successful Wii U launch, strong digital growth and continued momentum in the mobile space were countered by a decline in store traffic. As a result, GameStop expects its fourth quarter 2012 earnings per share results to be at the low end of its current guidance range. Our strong market share positions us well for the future, and we look forward to new product launches in 2013."
It has been several years since Microsoft (NASDAQ:MSFT) and Sony (NYSE:SNE) released new console systems, but reports indicate that a new Xbox may hit the market in time for this year's holiday season. People familiar with Microsoft's plans, informed Bloomberg in late November that new new device is planned for Thanksgiving and Christmas.
Don't Miss: The iPad is a Mad Profit Machine