Gates Waves Off Microsoft CEO Rumors, But Not Very Strongly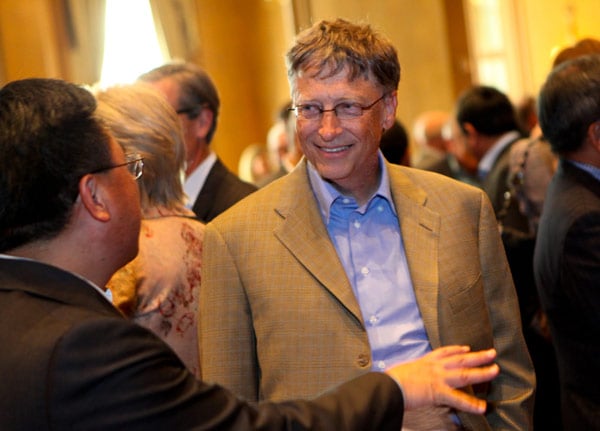 After Microsoft (NASDAQ:MSFT) Chief Executive Officer Steve Ballmer announced his retirement in the middle of August, the British bookmaker Ladbrokes began taking bets on who would fill his shoes. At the time, company co-founder Bill Gates had very long odds of 50-to-1. Regardless of the long odds and despite the fact that company insiders have said Gates is not being considered for the job, the rumor that he could return to that leadership position has persisted.
However, Business Insider corned the Microsoft chairman after his speech before the United Nations session devoted to its Millennium Development Goals, and when asked if he would take on the CEO role once again, he told reporters that, "No, I ran Microsoft for a period of time. And, now I'm the chairman helping out on a part-time basis." His answer was a denial, but not the most convincing denial.
The Business Insider reporter then asked whether Gates faced any "temptation to get back in that [technology] world" so that he could "try to get rid of these kinds of things," pointing to a reporter in the room typing on a keyboard hooked to an Apple (NASDAQ:AAPL) iPad and a MacBook Air, only to "replace them with Surfaces?" In response, Gates said that he is "part-time involved and Microsoft's got a lot of stuff, the industry is doing a lot of cool things, and I keep my hand in that, but I won't be full-time doing that."
For now, Ballmer's replacement is anyone's guess. Whoever it is will takeover in the in the midst of Microsoft's stalling campaign to realign itself with the changing technological trends. While Gates may arguably the best pick to become the next chief executive, given his unmatched understanding of the company and its technology, the question for the next Microsoft CEO will be the same no matter who succeeds Ballmer. Does Microsoft have any innovation left? How that innovation is harnessed and how successful the company's efforts are will depend largely on who is in charge.
While the timing of Ballmer's retirement was surprising, it is clear that Microsoft shareholders are glad to see him go. Investors are not very pleased with Microsoft's hardware forays. Not only have the company's efforts been underwhelming, but the hardware business has much tougher margins that squeeze profits. They have been calling for Ballmer to step down for some time and for a visionary new leader who will focus on innovation rather than salesmanship to take his place.
In particular, the chief executive has taken a great deal of criticism for the poor performance of Microsoft's stock since he assumed the leadership position in 2000. The stock has lost 43.47 percent of its value in the past 13 years, a symptom of Microsoft's inability to keep up with the changing technological trends. In comparison, the Nasdaq index has roughly double during the past ten years and peers like Apple, Google (NASDAQ:GOOG), Oracle (NYSE:ORCL), and International Business Machines (NYSE:IBM) have recorded big gains.
Last fall, Microsoft launched an overhaul of its Windows operating system, complete with touch-screen capabilities that enabled the company to release a tablet of its own, the Surface, its first step into the hardware industry. But since the beginning, the reviews of the tablet have not been overwhelmingly positive, nor have the sales figures, and that problem is evident in the company's financials.
In mid-July, the software maker reported that fourth-quarter net income came in at $5 billion, or 59 cents per share, which included a charge of $900 million, or $0.07 per share, "related to Surface RT inventory adjustments," meaning that Microsoft misestimated the number of tablets that should have been manufactured or the price the company should have charged for the device.
Yet, Microsoft remains committed to entering the mobile device business. The company will continue to expand its focus beyond software that is downloaded onto personal computers or on corporate computing network. Investors are more supportive of Microsoft's efforts to mold its software into downloadable packages for which recurring subscription fees can be charged. Microsoft has said that the subscription version of its Office business software will generate $1.5 billion this year.
However, in July, Ballmer announced a "far-reaching realignment of the company that will enable [Microsoft] to innovate with greater speed, efficiency, and capability in a fast changing world." In a  strategy document titled "Transforming Our Company," he noted, "as the times change, so must our company." Basically, the transformation the CEO had in mind was a greater focus on tablets and smartphones.
Then, at the beginning of September, Microsoft announced that had made a $7.2-billion deal to acquire Nokia's (NYSE:NOK) struggling cellphone business, a move designed to bring Microsoft into the leagues of Apple and Samsung (SSNLF.PK). The acquisition locked Ballmer's successor into manufacturing devices, which is likely why many industry experts are favoring former company executive and current Nokia Chief Executive Stephen Elop as the next chief executive. Elop chose to form a partnership with Microsoft, which was looking for an ally for its new smartphone software to help its phones recover ground after Apple shook up the technology world with the 2007 introduction of the iPhone.
Nokia picked Microsoft's mobile operating software over Google's, a deal that made both companies deeply dependent on each other for their mobile future. Nokia agreed to only use Windows Phone to power its smartphones, while Microsoft pledged to spend billions of dollars on marketing and engineering assistance. But, even though Windows Phone has surpassed BlackBerry (NASDAQ:BBRY) as the third-biggest smartphone operating system, its sales have continued to stagnate amid competition from Samsung and other Android-powered smartphones.
Don't Miss: Nokia's Nose Is Growing: Board Discloses False Info About Elop's Contract
Follow Meghan on Twitter @MFoley_WSCS