Geek to Chic: Google Glass Team Loses Techie, Gains Design Pro
In the wily world of tech, it can be hard for a company to keep its top employees unless it wants to fork out the big bucks on top of the other big bucks it was assuredly already forking out to have those employees in the first place. Google (NASDAQ:GOOG) (NASDAQ:GOOGL) is no exception to this rule, and as such has lost one of its elite Glass engineers. Of course, the game can be played both ways, as Google has also persuaded a new executive to take charge of Glass in an even greater capacity.
Wong defects
According to TechCrunch, Adrian Wong has left Google. He had been an integral engineer for both the Google Glass explorer edition as well as the upcoming consumer edition. For the Explorer edition he was the senior hardware engineer, while he was the hardware engineering manager for a number of elements in the consumer edition. He also worked in Google[x], the advanced technologies section of Google that has been behind projects like Glass, Google's driverless cars, and the internet balloons of Project Loon aiming to give Internet to the whole world. His background definitely speak for his caliber and just what a team member Google is losing.
But with employee poaching, one company's loss is another company's gain. In this case, the gain is all Facebook's (NASDAQ:FB) — or, more specifically, Oculus Rift's. TechCrunch reports that Wong has joined the team of Oculus Rift, which was recently acquired by Facebook after a very successful Kickstarter campaign. It's not clear exactly what he'll be doing for the Oculus Rift, as simply claims to be "Building the Metaverse," but he will surely be doing big things for it.
As Wong has several patents related to face-based wearables, displays, and technology based around the eye, his expertise in visual experiences and technology will most assuredly lend a hand to Oculus Rift. Considering the minimal size of Glass, he may be the man that manages to shrink Oculus Rift from its bulky visor form to a more appealing, lighter weight form factor.
Ross boards the Google ship
Though Wong's departure may be a major loss for Google, the arrival of fashion marketer Ivy Ross may make up for it. In a Google+ post late May 15, Ross announced that she would joining Google as the "head of Glass" starting May 19. She may not have experience in the tech industry, but Google already has plenty of tech experts to take care of those concerns. Instead, her expertise in design and marketing could be the ticket Google needs.
Before Google, Ivy worked for "Calvin Klein, Swatch, Coach, Mattel, Bausch & Lomb, Gap, and most recently, Art.com." Because Glass is a wearable device, it has to be more than just a high-tech gadget. It also has to be high-fashion, at least to an extent. To that end, Google has been approaching fashion companies to combine Glass with other brands, like Ray-Ban. So, while Wong helped get Glass where it needed to be technologically, Ross may be coming into to get it where it needs to go stylistically.
If you're interested in Google Glass, you might be curious about the Glass competitor rumored to be coming from Samsung. You can find out the details in our previous article right here: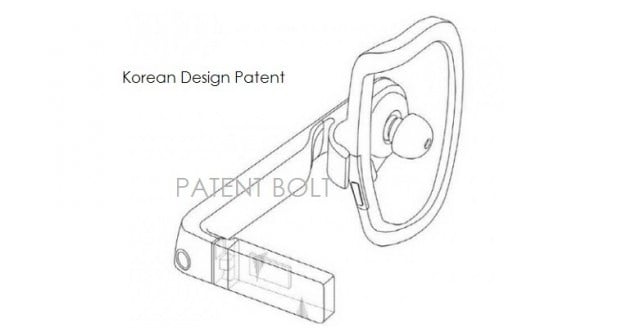 A lot of hubbub has been raised about the possibility that Samsung will be coming out with its own version of smartglasses akin to Google's Glass. What might have been excitement for the hardware power-player to step in the augmented-reality tech field could be something more dramatic, as the expectation is for Samsung's product to cut all ties with Google. The question is whether any of this is true.
Numerous sources have reported on the rumor of "Gear Glass," an augmented reality headset by Samsung that would attach around a user's ear like a wrap-around headphone with an arm that reached around to the front of the user's face with an imaging system just like that seen on Google Glass. Many watchers of Google Glass news have commented on how nice it would be if the device had the form factor of anime cartoon Dragon Ball Z's scanners — and the rumored Glass Gear has close to that design.
The rumor, as reported by Business Korea, is that Samsung is developing the device and aiming for a debut toward the end of summer at the IFA electronics fair in Germany between September 5 and 10. Since Google is said to be aiming for a launch date of Glass by the end of this year, it would appear likely that the Gear Glass could come out before Google's own AR device. Considering Samsung's past relationship as a major purveyor of Google's Android operating system, it might not sound like such a big deal for one to come out before the other, but the relationship between these two companies has been changing as of late.
Though it has only done so on a small scale so far, Samsung has been trying to get a little wiggle room away from Android by employing its own mobile operating system, Tizen. Its latest line of smartwatches, including the Gear 2, are among the first commercial devices running the operating system, and Samsung has plans to expand that into some smartphones for developing markets as well as other interconnected technologies, like TVs. Though the company has expressed the importance of its relationship with Google and Android, Tizen is a way for Samsung to make a few extra bucks from software, as it's been losing out on all the app sales that Google collects on with Android — which has arguably been made more popular by Samsung than any other smartphone manufacturer.
Business Korea received word that Samsung would be pursuing a wearable smartglass device from an unnamed Samsung associate who said, "We rolled out the smartwatch first, and have secured a considerable amount of smart glass-related technology and patents. Following the roll out of our smart watch Galaxy Gear in September last year, we are slated to introduce our smart glass Gear Glass this September." The news source said this Gear Glass would run on Tizen, just like the Gear 2.
Though the fact that Samsung has some patents for smartglass technology does lend some credibility, it's still a questionable rumor. As mentioned earlier, many sources have commented on this story, but Business Korea is inevitably the source where all the information is coming from, and that information is based on an unnamed source. In contrast, Samsung Design America studio head Dennis Miloseski said earlier this year that the company was interested in making devices that didn't turn their users into cyborgs, according to Recode.
Because Samsung has such a close partnership, it seems that if it is going to make a device as similar as the Gear Glass appears to be to Google Glass, it would most likely be doing so in conjunction with Google, and not in opposition.
More from Wall St. Cheat Sheet:
Follow Mark on Twitter @WallStMarkSheet