Germans Love New Apple Store
As Apple (NASDAQ:AAPL) has matured from an underdog computer company into an established technology powerhouse, some detractors have accused the Cupertino-based company of losing its "cool" outsider appeal. However, judging by the crowds that swamped the weekend opening of Berlin's first Apple Store, it would appear that Apple's intangible "cool" factor was as strong as ever.
Jan Teuner, a German civil servant, seemed to encapsulate the mood of the crowd when he stated via The Telegraph that "I was here at 9pm last night. It was cold and the ground was hard. But I wanted to be first because I love Apple and the products are perfect."
Although Apple already has ten other Apple Stores in various locations around Germany, this is the first Apple retail store in Berlin. Like many other Apple Store locations, this venue was carefully selected by Apple based on its strategic location in a major shopping district. The Apple Store is housed in a former theater and still features holdover design elements from its past, such as chandeliers and elegant, high ceilings.
Berlin's first Apple Store is designed with a similar minimalist aesthetic that is found in its other stores around the world. However, Germany's latest Apple Store does feature one significant change from Apple's typical retail layout. Apple installed a redesigned Genius Bar that allows Apple employees to sit alongside customers rather than across from them.
Here's how Apple traded throughout the past week.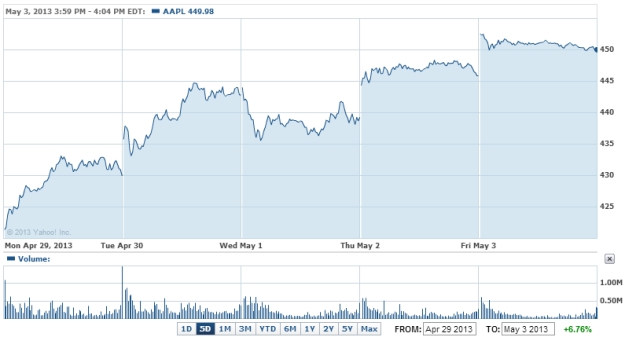 Don't Miss: Apple's Working On Scaling the Android Mountain.