GM Looks into Renewable Energy with This Move
General Motors Co. (NYSE:GM) sees electric vehicles and renewable energy as a key element of its future, and is investing more resources in research and development. Following its efforts in fuel cell technology, GM announced it has started working on a project with TimberRock Energy Solutions that would allow energy from electric vehicles to be added back into the local power grid.
TimberRock, a company based in Maryland, produces solar charging canopies for use at charging stations. By using GM's OnStar technology, TimberRock plans to regulate how much energy is being used by four Chevy Volts that are a part of the project. TimberRock aims to deliver only essential energy supplies to the electric vehicles, meaning the company will be able to take stored energy and sell it back to the energy grid. The partnership is exploring how effective it will be to produce and store renewable energy using vehicle batteries.
Rob Threlkeld, GM's renewable energy manager, said the company has goals of "using all factors of the charging equation: electric vehicles, solar power, and battery storage." The plan intends to address the limitations of solar and wind power as energy sources of the future.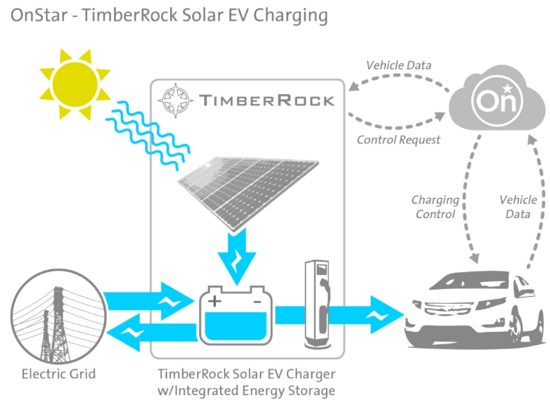 OnStar has technology called Demand Response, which can help communicate information on energy going to a TimberRock program. As the vehicles continue in their travels, TimberRock's software can recognize which Volt has power available for the energy grid. At certain peak times, electric vehicles could be supplying energy for the community when not necessary for use in the car. This partnership will gauge how well EVs can handle the job at the present time.
For consumers, there may be projects ahead that would seek volunteers for cars whose power supplies would be managed by companies like TimberRock. Incentives may be offered for the benefits delivered back into the energy grid. As EV makers like Tesla (NASDAQ:TSLA) continue to grab headlines for innovative moves in the industry, GM is hoping to be one of the automakers known for green initiatives.
Don't Miss: GM Pulls Ahead of Volkwagen in the Chinese Rat Race.