Google Buys NASA Hangar for Its Robots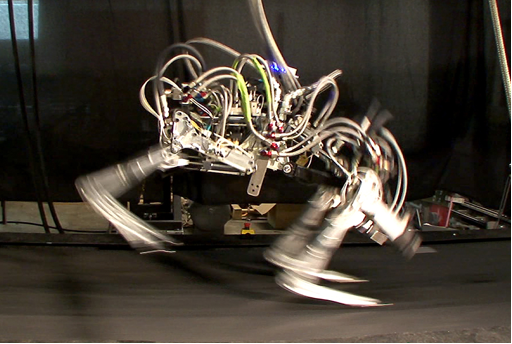 Google (NASDAQ:GOOG) shell company Planetary Ventures has purchased an enormous airplane hangar with a long history of housing the world's biggest and most cutting edge tech projects from NASA, according to a report from Quartz. The Hangar One in Moffett Federal Airfield is just a few miles from Google's headquarters in Silicon Valley. The building has a floor plan of eight acres and was one of the largest structures in the world back when it was built to house the blimp the USS Macon in 1933.
Quartz said that NASA is renting the space as a part of an effort to cut costs, and Planetary Ventures will update some of the structures as well as build a public museum on the base.
A spokesperson from NASA confirmed to the San Jose Mercury News that Google plans to use the space to house and test new robots. Google is currently negotiating with officials for a long-term lease of several hangars, a couple runways, and some adjacent buildings on the Moffett Airfield.
Google has gotten in trouble for its cozy relationship with NASA in the past, but apparently the government agency isn't hesitant to keep working with the company. Back in December, reports came out that Google was receiving fuel for its executives' private jets from NASA at below-market prices, which led some to accuse the government of playing favorites. Both Google's shell company in charge of the private planes of its executives and NASA claimed that the discount was due to a misunderstanding.
Google has been steadily collecting robotics and artificial intelligence companies over the past several months, leading the tech press to speculate widely about a dystopian future occupied by Google-designed robots. Back in December, Google purchased the robotics company Boston Dynamics, which has long been a Pentagon contractor and is known for building creepily animal-like robots. Boston Dynamics was the eighth robotics company Google has purchased in the last six months.
Last month, Google purchased the mysterious artificial intelligence company DeepMind, which despite not being very well known is considered to be one of the most formidable players in AI. One project that DeepMind has worked on includes building a smarter recommendation system for e-commerce sites. The DeepMind founders will join inventor and author Ray Kurzweil, who currently heads Google's team of engineers working on AI and language processing. One of Kurzweil's projects includes making a search engine so smart that it would act like a "cyberkinetic friend."
Hangar One isn't the only place Google is looking to test its robots. According to a new report from the Wall Street Journal, Google has also been quietly working with Chinese tech supplier Foxconn on the development of its robotics for use in automating the assembly process. Sources who spoke to the Journal said that Android head Andy Rubin has been working with Foxconn Chair Terry Gou since last year on creating robotics to be used in Foxconn's manufacturing operations. Analysts who spoke to the Journal said such a partnership makes perfect sense as it would be beneficial for both companies.
Google is looking to be at the forefront of robotics and other up-and-coming technology fields as revenue from its Internet search business has slowed down with the rise of mobile.
More From Wall St. Cheat Sheet:
Follow Jacqueline on Twitter @Jacqui_WSCS