Google Glass Gets Apple-Friendly
In a move that will expand the user base of Google's (NASDAQ:GOOG) Google Glass product, the Mountain View-based technology company has announced that it will soon make its glasses more compatible with Apple's (NASDAQ:AAPL) mobile devices. Frederic Lardinois at TechCrunch wrote that an unnamed Google employee revealed the upcoming modification when he was picking up his own pair from the company's New York office.
Although Google Glass will already connect with your iPhone, its navigation and text messaging functions are currently incompatible with Apple's devices. This is because those functions require an Android-powered smartphone with the necessary app installed.
Although many people assume that Google Glass is capable of independently connecting to the Internet, it actually requires a connection through a secondary device. Due to the obvious portability advantages that Google Glass affords users, this secondary device would likely be a smartphone in most scenarios. Fortunately, Google Glass already connects to the Internet through any device via Bluetooth or Wi-Fi, including iPhones.
Like any other device that piggybacks on your smartphone's Internet connection, Google Glass should not need to run its apps on the smartphone itself. Removing the requirement for an Android-based app to run the text messaging and turn-by-turn directions feature will make Google Glass a more independent and marketable smartphone accessory.
Here's how Apple and Google traded throughout the past week.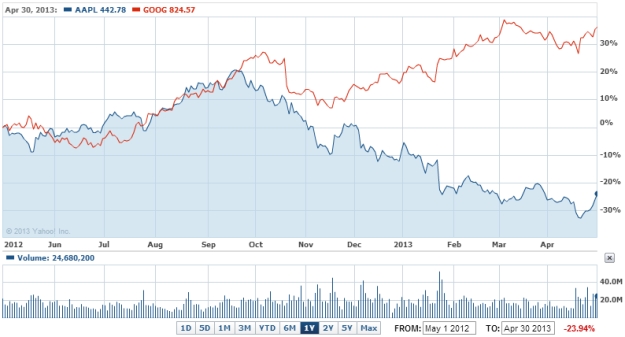 Don't Miss: Will a Facebook App Overwhelm Google Glass?