Google Hot Air Balloons Launched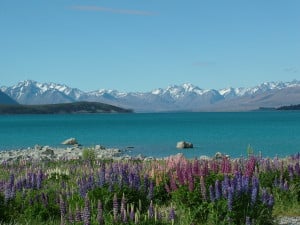 Google's (NASDAQ:GOOG) Project Loon culminated in the company launching jellyfish shaped balloons from New Zealand's South Island near Lake Tekapo. This signaled passing the first test of Google's efforts to wire the entire planet.
The project took 18 months of work. It was developed in the same lab that developed other innovative inventions, such as web-surfing glasses and a driverless car.
These balloons are the first of thousands that Google wants to launch. This is an attempt for the company to use the balloons to provide Internet for the 4.8 billion unwired people in addition to the 2.2 billion who are already connected.
If the balloons are successful, it is a chance for the company to skip the expense of laying fiber cable, especially in places like Southeast Asia and Africa.
The first person to get Google Balloon Internet was a farmer Charles Nimmo. The 50 people who signed up for the project didn't even really know what they were volunteering for because it was so secret. The Google technicians showed up to attach receivers at the volunteers' houses. Nimmo was one of the many people who cannot get broadband access, even in developed countries.
These Google balloons get their power from the solar panels that are attached. They get the signals from ground stations and then beam the Internet back to Earth. Each of the balloons could provide Internet service for an area twice the size of New York City.
There are a number of other requirements though. Computers would need receivers to get the Internet for instance. Google says they are trying to keep the service as inexpensive as possible, but do not have specific costs yet.
Another benefit is that the signals go into an unlicensed spectrum, so Google would not have to go through the regulation process that would be required with satellites or wireless communications networks. However, Google might still have to cooperate with authorities. In fact, the remoteness of New Zealand is part of the reason for choosing that location, and Google still worked with the country's authorities.
These balloons have a lot of potential for connecting people all over the world. Scientists and humanitarians have both noted the possibilities of using these balloons to increase the flow of information and improving communication to help developing countries.
Don't Miss: More EU Anti-Trust Allegations For Google.