Google Play for Education and Chromebooks: A Perfect Match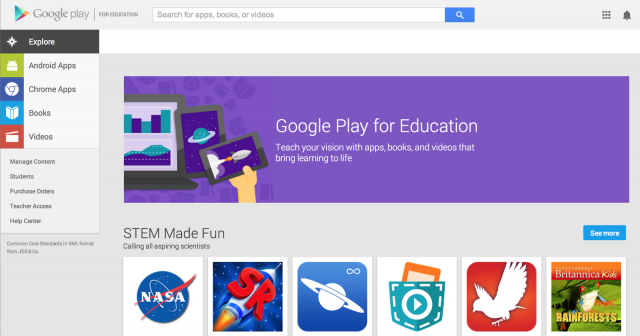 On Wednesday, Google (NASDAQ:GOOG) quietly announced that it would bring Google Play for Education to Chromebook, moving to make Chromebooks an even easier, more obvious solution for education than they have been in the past.
Google Play for Education is a platform for K-12 schools and teachers to use custom services and digital media to make their lessons more interactive and individualized for students. The platform, which allows schools and teachers to buy apps, books, and YouTube videos to distribute to their students, launched last year and until Wednesday, was available only for tablets. But on Wednesday, Google launched support for Chromebooks, opening up the platform to the thousands of teachers who use Google's small, affordable, web-only laptops in the classroom.
The Chrome OS platform will enable teachers to distribute both Android and Chrome apps, plus digital media, from a single platform. TechCrunch reports that approximately 10,000 schools currently use Chromebooks in their classrooms, with some of them using both Chromebooks and tablets. As they have in the past with tablets set up with Google Play for Education, teachers will be able to distribute apps and media either to a single student or to an entire classroom.
Rick Borovoy, a project manager for Google Play for Education, told TechCrunch that the platform originally launched for tablets only because the team was interested in the educational potential of tablets in the classroom. Plus, he "wasn't completely sold on the idea that schools would be interested in having students read books on their Chromebooks or that they would be interested in Chrome apps for their students." However, teachers using Chromebooks "immediately" asked for a Chrome OS version of the store, so responding to those requests and the growing use of Chromebooks in U.S. schools, Borovoy and his team delivered. 
In a post on Google's Official Enterprise Blog, another Google Play for Education project manager, Pratip Banerji, said that Google Play for Education is intended to provide teachers with tools that help them "find and share exactly the right educational content." To that end, apps in the Google Play for Education store are vetted and curated by a group of teachers, so that teachers are choosing from among the best content instead of wading through huge numbers of results. Additionally, teachers can rent or buy books, and schools can set up accounts with spending allowances to enable teachers to spontaneously purchase resources for their classes or for individual students. 
The move to bring Google Play for Education to Chromebooks provides teachers with better integration among devices and bridges the gap between Android and Chrome.  As AndroidPolice points out, Google's I/O conference included mention of Android apps that will be able to run in Chrome OS. So it's possible that teachers will be able to install an app on all of the classroom's Chromebooks, plus all of the classroom's tablets, simply from the Google Play for Education store. The move to run Android apps on Chrome, even if that release is limited when it does arrive, will also further add to the flexibility of teachers' choices, especially in schools that have both Android tablets and Chromebooks, and provide more integrated experiences between different devices.
Chromebooks have the potential to really take off as a solution for schools, who are not only attracted by the lost cost of the hardware, but also see the value in their ease of use and security, their long battery life and quick start-up, and the ease of sharing devices that comes with storing students' work on the web, not locally on the computer.
Additionally, managing large numbers of devices, on the scale of the classroom, school, or school district, is made easier with the Chromebook Management Console, which administrators use to make sure that every computer has the correct network permissions and  the correct assortment of apps. Chromebooks also offer teachers another time-saving tool with the recent introduction of Google Classroom, a platform that allows teachers to organize classes, create assignments, and review student work in conjunction with Google Apps.
All of these factors make Chromebooks an increasingly popular choice, and Google's move to bring Google Play for Education to the Chromebook will likely convince more schools to adopt Chromebooks in place of competing products like Apple's (NASDAQ:AAPL) iPad, or traditional desktop or laptop computers. Of course, Google has a strong competitor in Apple, which arrived on the scene of the educational market before any other large players got there. Apple's App Store boasts large numbers of educational apps and content, and integrations with iTunes U and iBooks. Apple also offers a variety of products running on the same operating system, so if a classroom has both iPads and Macs, the devices provide a uniform user experience and access to the same resources.
However, the setup of a large number of Apple products, for a classroom, school, or school district, is considerably less streamlined than the process of setting up large numbers of Chromebooks. Considering setup combined with the higher price of the Apple products, Google's offerings seem to hold pretty strong advantages as teachers and school administrators look to flexible, affordable solutions to make lessons more interactive and personalized for large numbers of students.
More From Wall St. Cheat Sheet: