Google Purchases Mysterious AI Company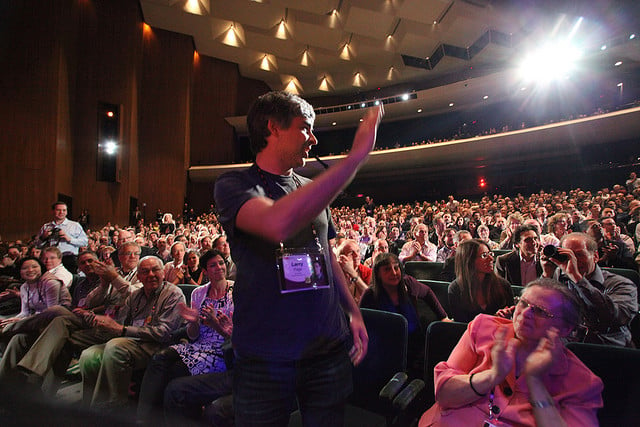 Google (NASDAQ:GOOG) has purchased artificial intelligence company DeepMind for between $400 and $500 million, according to a report from Re/code. Google confirmed the purchase with the website, but not the price of the acquisition.
Sources who spoke to Re/code said that the deal was led by Google CEO Larry Page. DeepMind is a fairly mysterious company founded by childhood chess prodigy Demis Hassabis, as well as researchers Shane Legg and Mustafa Suleyman. The company's website is just one page, describing itself as "a cutting edge artificial intelligence company." "We combine the best techniques from machine learning and systems neuroscience to build powerful general-purpose learning algorithms," the website reads, without getting any more specific about the kind of work the firm does.
Sources who spoke to Re/code about the company said that while it may be small, it's also a formidable player in the development of AI. The sources said that DeepMind has competed with companies including Google, Facebook (NASDAQ:FB), and Baidu for engineering talent. The company has been working on numerous applications for AI, including building a smarter recommendation system for e-commerce sites.
According to a report from The Information seen by TechCrunch, Google outbid Facebook for the purchase of DeepMind. The DeepMind founders will join inventor and author Ray Kurzweil, who currently heads Google's team of engineers working on AI and language processing. One of Kurzweil's projects includes making a search engine so smart that it would act like a "cyberkinetic friend."
"I envision in some years that the majority of search queries will be answered without you actually asking," Kurzweil told a gathering at Singularity University's NASA campus early last year, according to TechCrunch. DeepMind's technology and engineers could be put to work on such a project at Google.
The Information also said that Google is putting together an ethics board to be sure that the company's efforts into AI aren't harmful. For now, it's unclear what exactly Google is planning to do with what ever it is DeepMind's technology does, but apparently the company is already preparing to broach some issues in need of an ethics board.
The move comes after Google spent 2013 scooping up a plethora of robotics companies, most recently Pentagon supplier Boston Dynamics, which makes robots that are capable of carrying heavy loads and traversing difficult terrain. Google's robotics purchases have also drawn questions as to what exactly the company is planning to do with sophisticated robotics technology (cue the visions of a dystopic future where the world's run by Google and its robots).
Google isn't the only major tech company making inroads into AI recently. International Business Machines (NYSE:IBM) has announced that it plans to invest $1 billion in its smart computer Watson, which is famous for beating contestants on the game show Jeopardy. Facebook has created its own AI team to help it develop technology that could distinguish emotions or read between the lines in users' status updates and thus better target advertising.
More From Wall St. Cheat Sheet:
Follow Jacqueline on Twitter @Jacqui_WSCS