Google Search Uses Deep Links to Launch Android Music Apps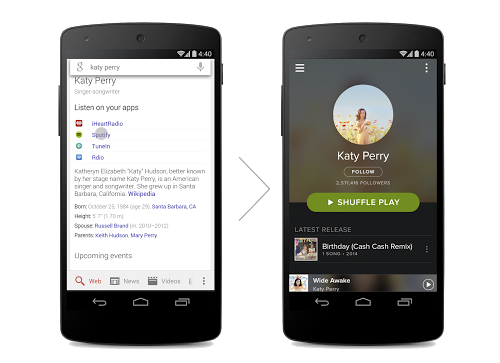 Google (NASDAQ:GOOG) (NASDAQ:GOOGL) announced that mobile searches for artists will now show users an option to play the band or musician's music directly in one of the music apps already installed on the phone. The feature is available to Android users in the U.S. and works with Google Play, iHeartRadio, Spotify, TuneIn, and YouTube. In a post on Google's "Inside Search" blog, Jason Douglas writes:
We're working to expand this feature to users worldwide, with their local services like Deezer. We hope all this makes finding and exploring artists and music on Google more fun now that you can listen to the music right away.
Lifehacker reports that the "Listen on your apps" feature so far appears to work only for artist searches. At least for now, searches for specific songs or albums won't yield a link, and will just display the usual background information, plus search results.
The feature likely looks to keep Google in the conversations that people have with friends about the music they like and listen to. When an Android user is curious about an artist recommended to them, they often do a quick Google search to find out about the band or musician. But as TechCrunch points out, music apps like those Google is partnering with for the new feature are likely seeing some of that music-related search traffic shifted to them. Apps like Spotify provide users with more than just a platform to listen to music, but also include biographical information on artists, sections spotlighting popular tracks, and even recommendations for related music.
By enabling users to launch their music app of choice directly from Google search results, Google is moving both to get some of that traffic back and to make Google search more central to users' mobile habits. That entails competing to be the place that users go to search for music, and Google's competitors include both the music apps that Google search integrates, plus others like Apple's (NASDAQ:AAPL) iTunes Radio, Pandora (NYSE:P), and Amazon's (NASDAQ:AMZN) newly launched Prime Music. But in the long run, Google isn't really competing with music apps (other than with its own Google Play Music), but is taking a step to execute the bigger strategy by which Google aims to change how users interact with apps and the mobile web.
Music apps' new integration with Google search is part of Google's larger strategy to use mobile deep linking to launch apps from search results. The way deep linking work runs counter the way a search engine, like Google, has traditionally worked. Search engines visit web pages and index the information and the links that they find there. A traditional search engine can't index the content or links in a mobile app. Deep links, on the other hand, can link to a specific page or function inside an app, so a deep link from Google search results can take users to an artist's page in a music app. So Google isn't really competing with Spotify, for instance, but is hoping to get users to go to Google first to then be directed to Spotify.
Last week, MIT Technology Review wrote that "a new kind of search engine" built for "the era of apps" would make it possible to search across the apps on users' smartphones to find what they need. Technology Review was referring to Quixey, a company working on building a search bar that takes deep linking to a level beyond what Google has launched, thanks to Quixey's reimagining of deep links as a mechanism to make smartphones more functional for everyday use. Technology Review reports on a Quixey prototype expected to be released later this year:
When asked to find a particular kind of cuisine, it serves up the highest rated places nearby from review apps such as Yelp and Urbanspoon. It can also show links to the OpenTable app to make reservations and check availability. Quixey can also offer results from apps not installed on a device. Tapping on one installs it and then opens it to the relevant place.
The challenge — for both Google and Quixey — is to get users to change the way that they use and launch apps. TechCrunch points out that users are used to opening individual apps to complete tasks, even when they've downloaded multiple apps that can complete the same function. Making users aware that they can launch apps with a Google search may "take some work," as TechCrunch puts it, and Google's move to launch and promote the music app integration as a simple application of deep linking may help get users to change their habits.
Google introduced the capability for deep linking to Android last year, with the App Indexing feature it added to Android 4.4 KitKat. As TechCrunch reported at the time, that's when Google Search gained the ability to link straight to pages and places in apps installed on the phone. TechCrunch explained Google's logic at the time, and the choices that companies faced when considering whether to implement deep linking into apps.
The way Google sees it, the move is all about providing these companies with a choice. If they think their mobile interfaces are enough to keep users engaged, they can simple go about their business. But if they already have an Android app (or are in the process of building one) that can do a better job of engaging with its users, a little extra work to implement those deep links may be well worth it.
Creating those deep links requires work on the part of the companies providing content and developing apps, but the integration of deep links to music apps into Google Search results is a great example of how companies can use Google's deep linking strategy to its advantage. The challenge, meanwhile, is to make the use of deep linking more common, both among smartphone users and by the companies developing apps for them.
More From Wall St. Cheat Sheet: