Google Wants to Send Internet to Space and Back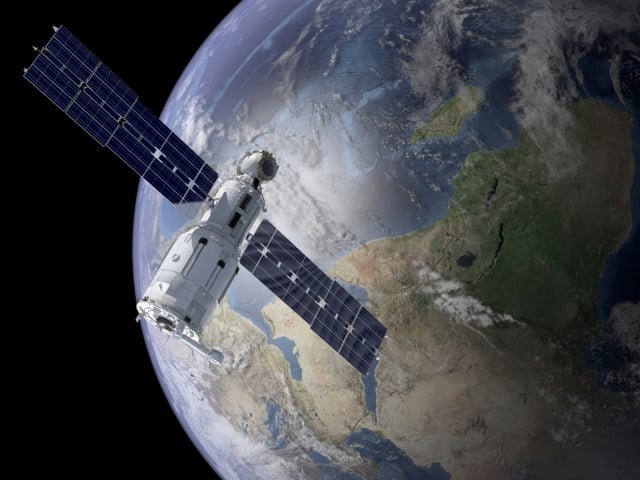 In terms of where it wants to stand in the business world, Google (NASDAQ:GOOG) (NASDAQ:GOOGL) has long been aiming for the sky. It definitely hit the mark by becoming the world's most popular search engine. When it launched Android, it was headed straight toward the top for the world's most popular mobile operating system. According to W3Schools, Google has also managed to take the top spot around the globe for Internet browsers with Chrome. Now, the search giant may be on its way high into the sky in a non-metaphorical sense, as it could be sending hundreds of satellites up into orbit.
The Wall Street Journal has reported that Google is planning to send a fleet of satellites up for between $1 billion and $3 billion, according to people familiar with the matter. There's no suggested date for when the high flying Internet machines could launch, but it may be a ways off yet. This wouldn't be Google's first attempt at something like this.
For any that have been following Google closely, or even from afar, Google Fiber has probably come to your attention. It's the super fast gigabit Internet service that the company has been rolling out super slowly — in stark contrast to the speed of the project's Internet connections. It's been around for a while, but is so far only in two cities, with plans for a third and less than three dozen in consideration for future development. This project is still significant for Google as it can help boost web use in the U.S. while also pressuring other Internet service providers to step up their game with gigabit offerings of their own — all helping Google increase its ad revenue by making it easier to get more traffic.
However, significant Google Fiber may be, it's a small project and may never grow to span the country with fast, cheap internet. Of course, the U.S. may not be the most important place for Google offer Internet to, as it already has plenty. The company has explained that, "For 2 out of every 3 people on earth, a fast, affordable Internet connection is still out of reach. And this is far from being a solved problem." Solving that problem means increasing Google's potential user base by 200 percent. The company also added that, "Solving these problems isn't simply a question of time: it requires looking at the problem from new angles."
Those new angles are up above. Google's made an attempt at delivering Internet to remote areas already, as it released 30 balloons last June that soared up to 12.5 miles in the air, well above airplanes. Those balloons were meant to create wi-fi hot spots by transmitting signals to buildings below fitted with antennae, and would offer speeds comparable to 3G.
Google's satellites may have a bit more potential than the balloons, as there would be more of them providing greater coverage, even if they are more expensive and take longer to launch. The Street reports that Google is planning an initial batch of 180 satellites with a second fleet to double that amount later on. Just how much it's going to cost Google is about as high up in the air as the satellites will be.
The Street's sources said that would cost $1-$3 billion. However, Roger Rusch of satellite consulting firm TelAstra has suggested that the costs could balloon to about $20 billion. Quite to the contrary, Tim Farrar, the head of TMF Associates — another satellite consulting firm — has said that 180 satellites could be launched for as low as $300 million.
Google's endeavor may be a ways off, and it may cost a lot. But Google has a plenty large revenue stream, and spreading the internet to the heretofore unreachable sections of the globe would only serve to increase that revenue stream, so it may prove a worthwhile investment for Apple.
More From Wall St. Cheat Sheet: