Google's Android TV Entertainment Hub Takes on Apple, Amazon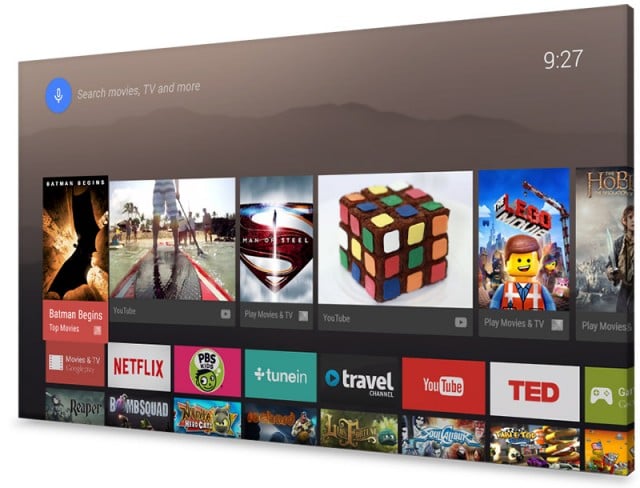 Google (NASDAQ:GOOG) (NASDAQ:GOOGL) announced Wednesday that it's giving TV another try, unveiling Android TV, a version of its operating system made specifically for TV purposes. As Wired reports, Android TV is designed to be an entertainment hub, like similar devices such as Apple (NASDAQ:AAPL) TV, the Roku Streaming Player, or Amazon (NASDAQ:AMZN) Fire TV.
Android TV users will be able to stream media using televisions, set-top boxes, and game consoles running the specialized version of the operating system. As with the original Android mobile operating system, Google will look to third-party manufacturers to create the devices that the platform runs on, and Sony (NYSE:SNE) 4K televisions and Philips televisions will support Android TV this fall at the same time that boxes by Razer and Asus will be available.
The Android TV platform also supports Google Cast, and users will be able to stream content from the web browser of an Android device to the television, like iOS users can with Apple TV. Users will be able to control the interface with a gaming controller, a remote, an app, or even a smartwatch running Android Wear.
Android TV will have its own store, which will launch this fall when devices are available. In addition to streaming audio and video, the platform will support a variety of custom-made apps, including Netflix (NASDAQ:NFLX), Hulu, Pandora (NYSE:P), plus Google apps like YouTube, Hangouts, and Play Movies. Google Search functionality is also built into the interface, allowing users to find media by a variety of criteria, and can be controlled with voice commands. The platform also offers gaming capability, and will enable users to play Android games on their television, and use Android devices as controllers.
AppleInsider describes the Android TV interface as "relatively conventional." While the same could more or less be said of a lot of the features that Android TV includes, that's primarily because Google is technically catching up to competitors like Apple and Amazon, who have already released the products that set the current precedent in the market. But critically, Android TV already has something that existing systems don't: an easy way for the app developers who already create apps for Android to bring them to Android TV without working directly with Google as a gatekeeper to the Android TV ecosystem. 
That contrasts with Apple's strategy with the Apple TV set-top box, or Microsoft's (NASDAQ:MSFT) policies with the Xbox One. Developers who are interested in bringing an app to either of those (competing) platforms have to work directly with Apple or Microsoft to create a new app, whereas Android developers just need to add a new, television friendly interface the apps that they've already released to the Android market. That will make it easier for new apps to get to the Android TV platform quickly, and make it more likely that Android TV will be able to keep pace with the apps and games that people use on their mobile devices, and would potentially want to access on their televisions. A potentially big advantage for Android TV will be its capability for gaming.
Pricing and technical specifications of the various Android TV devices, including televisions, set-top boxes, and game consoles, have not been released, and will play a critical role in how well Android TV competes against like products by Apple and Amazon. In addition to Sony and Philips, Time reports that Sharp and TP Vision will release Android TV products.
Google announced Android TV at its two-day I/O developer conference in San Francisco. At the event, the company has so far also highlighted features of the latest Android operating system, thus far referred to only as "L," the Android Wear operating system for smart watches like the LG G and the Samsung Gear. Google also announced Android Auto, which will bring features typically found on smartphones running Android to vehicles by more than 40 manufacturers.
The company is shifting to accommodate the demands of an increasingly mobile consumer base. The majority of Google's revenue comes from advertising, an area where mobile ads are growing quickly, but traditional desktop ads are still lucrative. In addition to extending the Android operating system beyond its traditional domain of phones and tablets to watches, cars, and television, Google is placing bets on more speculative ventures like Google Glass, driverless cars, and aspiring smart home hub provider Nest.
More From Wall St. Cheat Sheet: