Google's New Service Lets Users Pay to Avoid Ads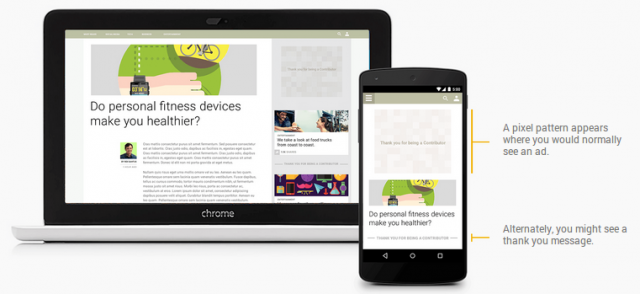 In the past 10 years, Internet users have become accustomed to one simple and consistent fact about the web: It's funded by ads. But users hate seeing them, and they hate the recent rise of extensive data collection to more effectively target them, so they turn to ad blockers to get rid of the ads, which cuts into the primary source of content publishers.
But Google may have a solution: The New York Times reports that Google is experimenting with a new way to let users remove or reduce the number of ads that they see on popular websites — while paying a monthly small fee that gets distributed to the publishers of the content that they browse.
The service, called Contributor by Google, is intended as "an experiment in additional ways to fund the web," according to its website. "Today's Internet is mostly funded by advertising. But what if there were a way to directly support the people who create the sites you visit each day?" Users choose a monthly contribution amount between $1 and $3, visit participating sites, and "support the people who make the web." As Google's site explains:
From $1-3, you set your monthly amount. The more you contribute, the more you support the websites you visit… When you visit a participating website, part of your contribution goes to the creators of that site. As a reminder of your support, you'll see a thank you message – often accompanied by a pixel pattern – where you might normally see an ad.
The Contributor by Google site lists Urban Dictionary, The Onion, Science Daily, WikiHow, Mashable, and Imgur as "a few of the partners joining us in this experiment." The New York Times reports that Google is working with a total of 10 websites on Contributor, and Google will take a small cut of the contributions. Users can join a waitlist to try out Contributor by Google, and content publishers can contact Google to learn about using Contributor on their websites.
As The New York Times notes, the experiment is small in scale, and follows other similar trials like Google Consumer Surveys, which let publishers finance content through surveys instead of ads, or Fan Funding, which YouTube fans could use to pay the content creators behind their favorite channels and videos.
Contributor also may not make websites completely ad-free. Google only has the power to remove ads that it served, so in many cases Contributor will enable users to see fewer ads instead of no ads at all. The New York Times' Conor Dougherty notes that while most people largely expect websites to be free, they are growing more comfortable with the idea of paying for online content. He cites HBO's new streaming service for "cord cutters" who don't subscribe to cable service and Vimeo's recent move to charging for content and investing in premium shows.
While early critics are quick to note that users can obtain the same results or better by using free, effective ad-blocking browser extensions — like AdBlock Plus, which unceremoniously blocks ads from showing up without compensating the publisher for the privilege — Wired points out that Contributor appeals to Internet users' sense of ethics.
However, it remains to be seen if people who hate ads will really pay for content that they could otherwise get for free, and without ads thanks to one of an array of available browser extensions. While publishers want to convince users that their content is worth paying for — and make it easier for them to pay for it — those who have had success with paywalls and subscription models largely charge more than $1 or $3 for a monthly subscription.
Wired notes that even for publishers like the New York Times — one of the most-respected publications available online — many users decide that paying for access to the content isn't worth the cost of a subscription. It's hard to imagine that sites like The Onion or WikiHow will benefit from the same kind of off-handed cost-benefit analysis.
However, if the Contributor model does prove successful, thanks to Google's wide reach through the infrastructure of the Internet, it could solve problems both for users and for publishers. While initiating an experiment that seeks to reduce ad impressions seems at first like a surprising move for Google, it's an interesting step toward pioneering new ways to fund the web, and could prove an important milestone as users grow tired of an ever-multiplying array of ads accompanying — and in some cases obscuring — their content.
More from Tech Cheat Sheet:
Want more great content like this? Sign up here to receive the best of Cheat Sheet delivered daily. No spam; just tailored content straight to your inbox.