Groupon Blames Google for Earnings Miss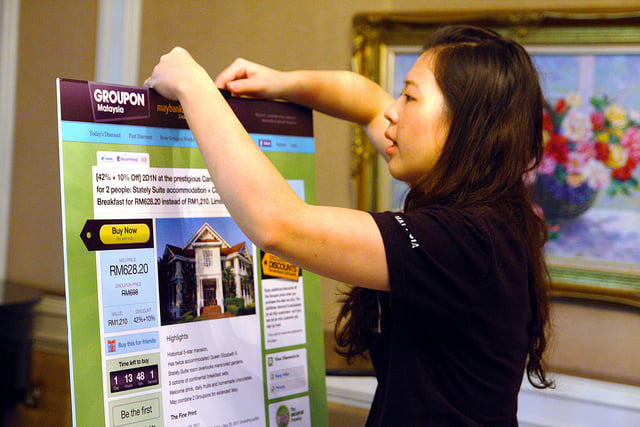 When Groupon (NASDAQ:GRPN) reported third-quarter earnings after the bell on Thursday, the company reported a larger loss and a fewer sales than analysts had expected, and CEO Eric Lefkofsky is blaming Google's (NASDAQ:GOOG) recent Gmail inbox changes for the slide.
Google recently reorganized Gmail's inbox to include a separate folder for e-commerce and retail related emails labeled "Promotions." Emails related to online shopping, coupons, and deals are automatically sent to the promotions folder instead of to the Gmail user's main inbox. Retailers have been complaining about the change since it started being rolled out earlier this summer, as it causes Gmail users to see their emails less frequently, and even miss emails related to time-sensitive deals. "That created some open-rate declines," Lefkofsky said to the Wall Street Journal of the Gmail change. "They made the change they made and it's now baked into our guidance."
Lefkofsky went on to say that, "We have to even further reduce our reliance on email and whatever happens with Gmail becomes less relevant." In addition to having their emails shunted away to a less visited inbox, retailers have also complained that Google is mixing in its own promotional ads so users have to sift through advertisements that may or may not interest them while looking for emails from a retailer that they've actually signed up to receive. To cope, retailers are asking users who have signed up for their emails to move messages into their main inbox, which will direct emails from the retailer's address there in future rather than to the promotions tab.
Lefkofsky pointed out that Groupon is moving towards being less focused on email, and is even working on a version of the site that could be used without having to provide an email address and receive daily emails from the company. Lefkofsky said that emails now account for less than 40 percent of Groupon's deals transactions.
For the third quarter, Groupon reported that revenue increased 5 percent on the year to $595.1 million, falling short of the mean analyst estimate of $615.69 million. Groupon reported a net loss attributable to common shareholders of $2.6 million, or 0 cents per share, which was short of expectations for earnings of 1 cent per share and operating income fell 45.7 percent to $13.8 million. Gross profit fell 7 percent versus a year ago to $359.6 million.
Those underwhelming results caused the stock to fall in post-market trading on Thursday, but it had recovered to rise 7.1 percent to $10.18 at the time of writing on Friday afternoon.
Follow Jacqueline on Twitter @Jacqui_WSCS
Don't Miss: Groupon Fails to Offer Investors an Attractive Deal With 3Q Earnings.